I finished this scrappy top a few weeks ago Scrappy quilt top finished and I had in mind a dark back that would also make a nice border to frame it.
When I was rummaging through my stash I found a lovely navy mottled cotton, with a raised pattern. I don't know how long it's been in my stash but it's at least ten years or so.
Knowing that in the past I've not always been meticulous about washing fabric before I add it to stash, I thought I'd better wash it in case there was shrinkage.
I hadn't realised there was a (formerly) white tee in the washing machine (on the right below) I washed it a second time and threw in a peach coloured microfibre towel. That's on the left below. The picture doesn't even show how much dye has run.

Imagine if I hadn't prewashed it. I can't trust it now, so I'll use something else. But the moral of the story is prewash!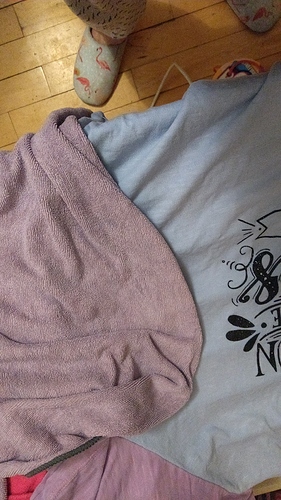 Edit: so I followed some online recommendations to fix the colour. Soaked it overnight in water with a cup of vinegar and 1/4 cup salt. I washed it again (wash number three!)
It's still throwing out colour, this is it hanging beside a formerly white tea-towel. I added it in to check.
This fabric is getting relegated to the naughty pile