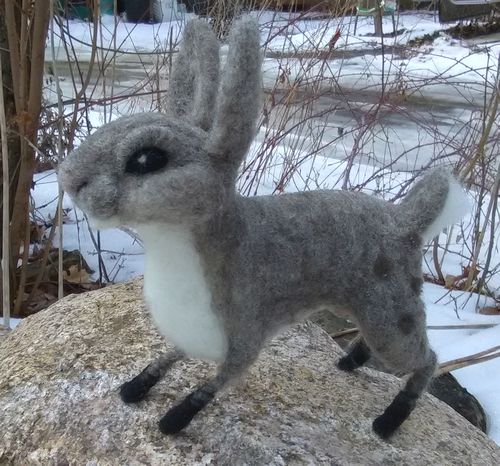 How many times can we click that

? I want to give this a million hearts! This is so adorable. You are a master at needle felting. I love this so much. You got the expression perfect!
I LOVE THOSE EYEBROWS!!!
Whoo, sorry for shouting there. I got a little excited!
This is so sweet! I think we might need to declare March bunny month!
You got the face shape just right…and the fluffy little tail!
You have some serious skills!!! I love everything about this rabbit…
This is perfection!


You really nailed the eye bones, and nose ridge! As it curves down from the crown to her nose. Wow. And the little Ron Perlman cheeks!! Yassss!!
I do not understand how you can make this kind of magic happen.
So pretty!! It looks ready to start leaping and running!
This is exactly how I feel. I made a teeny, tiny pig one time and that look days!
Also, how is one photo enough? I keep wanting to see all the parts up closerish. That face!
So, so cool! All the



Oh, wow, amazing!
He looks so real (and so cute).
You could've fooled me, I thought it was real

I love this little guy!!!
Oh my, he is so cute! I love the spots on his hind end.
Congrats on being picked as one of this week's featured projects! You are AMAZING!
Thanks bunches!!!




He's a lot perkier than the buns in my neighborhood!