I've had a heating pad for a number of years, and it originally came with a flimsy boring fabric cover made from what felt like a very thin flannel. As things will do, it started to get discolored from wear, but I never actually put it in the wash for fear that it would disintegrate. But I finally had enough and decided to sew a new cover for it. I pulled out my favorite shibori fabric (Hamilton 2016

) and had the perfect amount to do this.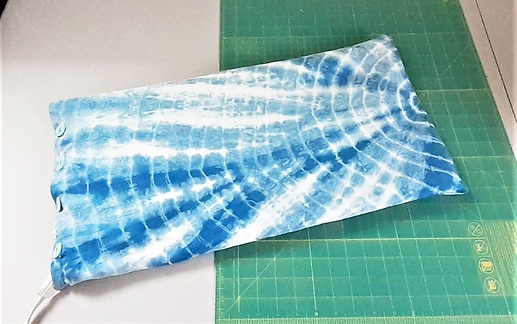 The original cover just had one snap in the middle to hold the cover on so I improved upon this with 4 buttons. No fear of this falling apart in the wash. Also bonus: There's an inner layer of foam to act as a buffer from the heat of the pad which was always sliding around, so I built in a inside pocket to hopefully prevent it from moving around as much. I would have sewn it in place, but again it's rather flimsy and if it falls apart over time I want to be able to replace it.