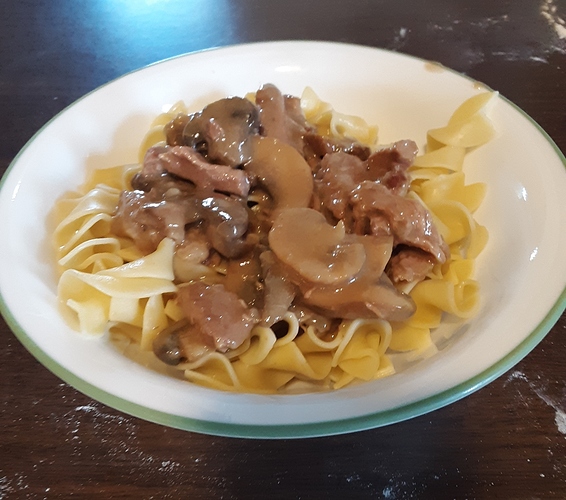 2 lbs beef roast sliced into 1x1.5 inch thin squares.
2 pkgs sliced mushrooms (or 2, 8oz cans of mushroom pieces)
1 c. Chopped onion
3 cloves of chopped garlic
2 Tbls. Better than Bouillon beef.
1 c. Sherry
2 c. water.
1/2 c. milk.
Lightly cover the beef with flour and fry til lightly browned. Add garlic and onion and continue frying just a little longer. Add water then the rest of the ingredients except the milk.
Bring to a boil, then simmer for about 2 to three hours.
Mix the milk with 1/4 cup flour, then pour into pan, and return to medium/high heat and bring to a boil.
After it thickens, remove from heat, salt and pepper to taste. Serve over extra wide egg noodles.
(harrumph! I think that's a bit too much Sherry. It won't be for a while before I can make this again. So until then add 1/2 c. Sherry and slowly add more until you think it's enough).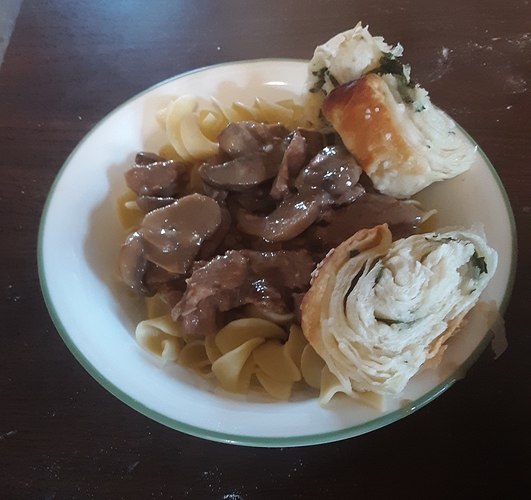 A bowl with my garlic roll with mozarella