We made 2 flavour profiles. One with black beans, corn, chili powder, cumin, smoked paprika, quinoa flakes. The other with chickpeas, ground walnut, oats, curry , cumin, garam masala.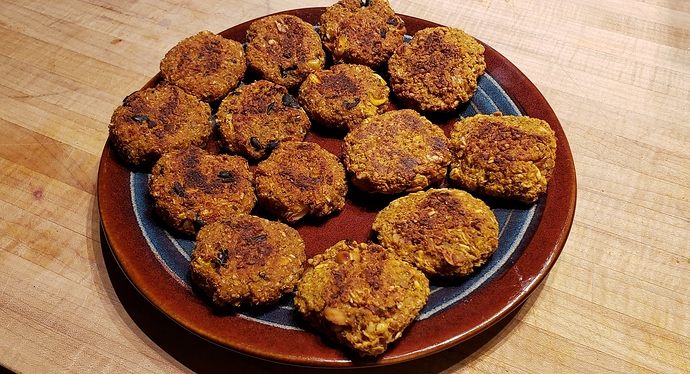 We also tried a few ways cooking them. Pan-fried thick & thin, baked thick & thin, falafel sized.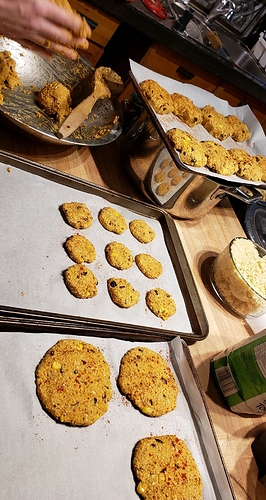 Best liked was baked falafel size, they get firmly cooked while still with a dense, moist texture. Either flavour was great & apparently they freeze well either fully or partially cooked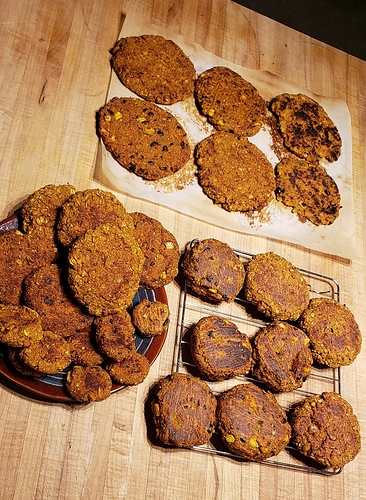 Don't they look like a batch of cookies? The oats make them smell a bit like cookies too, lol.
The recipe is roughly:
2 cups roasted & mashed sweet potato mixed with
1-1 1/2 cup cooked grain of choice (rice, quinoa, millet, etc)
1 cup roughly mashed beans
Spices - about 1-4 tsp combo of your choice. You can include a handful of fresh chopped cilantro, parsley, dill or other as well.
Salt & pepper to taste
Sprinkle of dried garlic or fresh minced if desired.
Optional is 1/2 nut meal (pulse in blender or food processor or roughly chop).
Last is to sprinkle in oat flakes, or other grain flakes, until the mixture is crumbly but still moist enough to stick together when pressed. Use whole flakes or pulse in a processor to make a rough flour.
Form patties & either fry in a little oil until both sides are golden brown, or bake at 400 dF for 35-40 mins, flipping halfway, until golden brown.