Absolutely darling itty bitty circus shrine!
Holy cow - that is so tiny!!! What teeny cuteness!
You did!
I love that little red suitcase, and its tiny turquoise friend!
It's so, so tiny! And oh so fab! Love it!
Look at your fancy shrine! It is one of this week's featured projects! Way to rock it!
Wow, thank you! That's a big honor for such a tiny thing.

@racky I LOVE your work space. It's amazing. And this is the cutest, teenie tiny little project. Love it!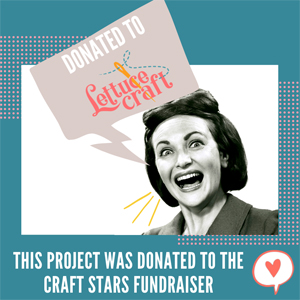 LETTUCE CRAFT NOTE: This project was crafted and donated to the Craft Stars Fundraiser ! It is available via online auction until Saturday, February 8. For more information, please visit the auction listing .
Thank you so much for donating this wee fellow!!
Tell me you used tweezers. I would certainly have to do that.
Not tweezers, but a wax pencil. They're designed to pick up rhinestones, etc. for nail art, but they work great for fiddly little papers or sequined stars! I got mine from Amazon: http://tinyurl.com/unx49tf
I'm pretty sure you mean you got ~mine~ from Amazon

Still has your name on it even

I can lend it back to you if you want to make another one, must have been so hard to give that awesome little thing away. You are the greatest!
Correction: I got mine and Magpie's from Amazon.

I keep reading all these tips (like @Magpie using cuticle cutters for making stamps) and I just want to go shop and buy all the cool things. I didn't even know about wax pencils and now I need one.