Our school is closed, but staff are volunteering their time to make and deliver meals to our kids. I made masks for my colleagues and myself to wear while we work. I like the fit of this mask, but it is labor-intensive. It has a pocket for a removable filter, is snug to the face, and doesn't hurt my ears. I have made 16 so far. I will simplify the pattern if I have to make another batch. I used pipe cleaners as nose wires in the others. I forgot to add the wires to these two. It was late and I was tired. This is the pattern I used.
The Bears mask is for our hard-working, selfless vice principal who is working harder than ever during this pandemic. The unicorn mask is for myself. I might as well look fancy while I work.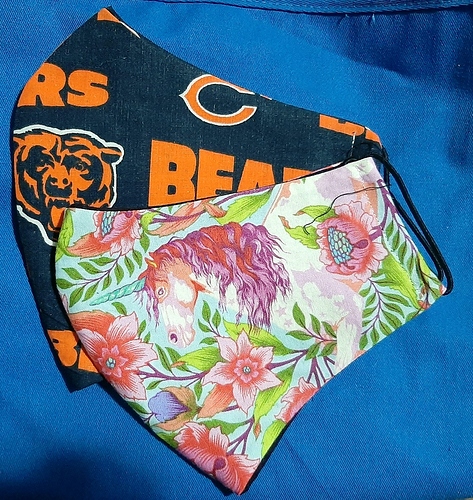 Edit: Selfie while I take a break from scooping applesauce.