Add this to my list of quarantine projects.
I bought this framed canvas painting (a questionable still life of flowers) from the thrift store years ago with the intention of someday doing something with it. What it would be, I had no idea…and then it just sat in my craft room for a very long time.
Fast forward to now, being stuck in the house, determined to craft only with stash (obviously shopping for supplies is rather difficult now). I decided to pull out this canvas and finally do something with it, and the decent amount of paint I've had for a long time but haven't touched. Inspired by @alteredmommy's Big Mountains acrylic painting, I decided it'd be a fun exercise in just painting as my whims and emotional responses dictated…which was a fun process though led down many an ugly path. But we'll call those ugly paths "layers", and layers make the painting more complex and interesting right?
I documented each layer as I went to see the evolution of it. I did get lax near the end though just due to being a bit tired of continually making bad choices. But I do think I landed in a spot where I'm happy. Originally I thought I'd use only paint, but I ended up using alcohol inks, sharpie, fabric paint, mica powders, watercolors and collage elements too. I wasn't happy when I was forcing myself to only use paint, but once I opened the door to anything, it became a lot more fun.
Here's where I ended it. It's so easy to be tempted to continue adding more details, but the second it's too much, there's no where to breathe. It's definitely a balancing act.
This canvas holds multitudes in its layers. It is nice that if your top layer is going really really wrong, you can hit the reset button by throwing another layer of paint on top of it.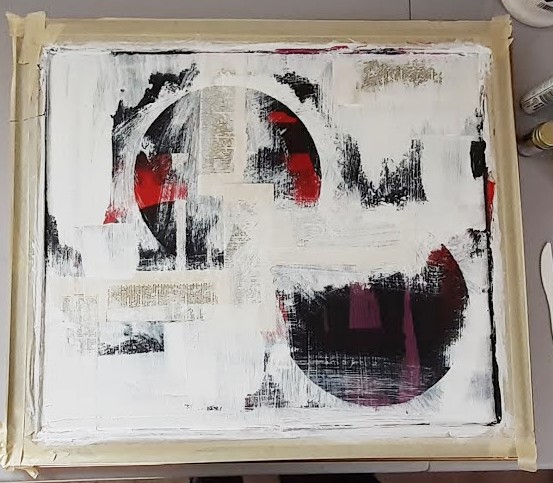 I love the texture in this corner.