I had a lovely time at the Whitby Steampunk festival today.
One of the stallholders, Abigail, was running a series of workshops, teaching people how to use Powertex. I'd never heard of it before, but signed myself up.
She was showing how to make brooches or pendants with a small piece of tshirt fabric, an even smaller piece of scrim, an MDF base and an embellishment made of air dry clay.
Using the Powertex itself was a bit messy; every bit of the fabric has to be coated, with the easiest way being to use your fingers and it gets sticky quite quickly. We were provided with gloves, so it wasnt too bad.
After covering the fabric, we also put a layer on the MDF so the fabric would stick, covered our embellishment and put that in place, then scrunched the fabric. When we were happy with it it was blasted with a hair dryer, to speed up the drying process. The fabric needed to be touch dry before we could add colour.
The colour was little pots of pigment, which we picked up using a brush with some Powertex varnish. This could then be applied, after wiping away excess paint first. I painted mine green around the outside then highlighted the bird with bronze gold.
I'm really pleased with him


and bought a starter pack, so if I can find something to use for a base & embellishment, I'll do a mini tutorial.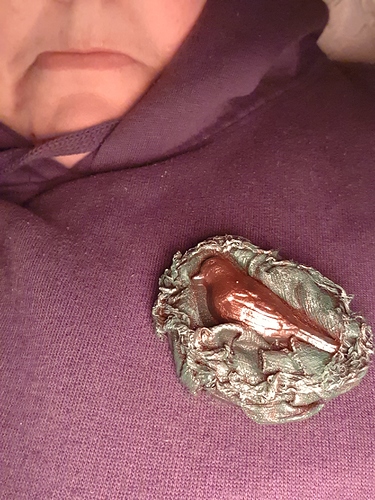 One thing she said was that there aren't many stockists and you are often better off going through the Powertex people themselves anyway.
(sorry, I didn't even think about taking progress shots!).