What kind of buttons do you prefer? Plastic, glass, wood, etc.? Does it depend on the project too?
For me it totally depends on the project. I don't think I've ever used glass and probably wouldn't because of breakage.
I have a ton of Czechoslovakian glass buttons. I have used them as a single button for a jacket using special pins so that the button can be removed for dry cleaning.
They also work well for a closure on a bag. They are not as breakable as you might think.
I like all sorts of buttons from cloth to coconut shell. I even have ivory buttons (from way before they were banned…)…and I love making singleton buttons in moments of stress…
I really dislike the cheap plastic buttons but they are practical for shirts and some clothing.
I prefer all the buttons as long as they are from stash! My stash grows faster than I can sew and all of it is inherited/gifted.
I like the look of wooden buttons on knitted clothing and I'm not a fan of cheap ugly plastic buttons, but there's a time and a place even for those. The blouse I finished yesterday has those kind of buttons.
I love glass buttons. Iridescent nacre buttons are yummy. Metal buttons have such a presence. wood ones have a rustic elegance. colorful, cartoony plastic is fun.
Sigh. I love buttons.
For me buttons bring back memories of playing with my Grandma's button box. It was full of all sorts of buttons, many old, reclaimed ones but also new ones, still on the card backer. Don't know what happened to that box when she had to go into a care home.
Now, I also have a button box, but mainly full of plastic ones, of different sizes, colours and patterns. There is a few older buttons in there,but not many, and I wish I knew where Grandma's button box was.
As for using - I try to use what I have.
Thanks for all the feedback! I'm a button fiend too - I like just about all of types, except cheap plastic. just curious if people had specific preferences or were more like me

I, personally, like vintage German & Czech glass buttons along with some resins. I have a nice little collection of buttons. maybe I'll start a thread in the lounge

It absolutely depends on the project. I have a lot of buttons and sometimes I would like to dump them into a big container just for the nostalgia factor (my gran had such a lovely button bin, our aunt has it now) but I keep them sorted by colour for ease of use.
I collect vintage shell buttons, those are my faves. I do try to use the special ones as much as possible, today I put a very old clear glass button on a yoga mat bag for my daughter. Not sure she appreciated it but that's not the point, right? Use the good buttons!
I would love to see everyone's special buttons…it would be nice to be able to share our special collections and maybe come up with ideas to use them!
Shells and novelty buttons on display in my newly crafted mushroom pincushion topped jars!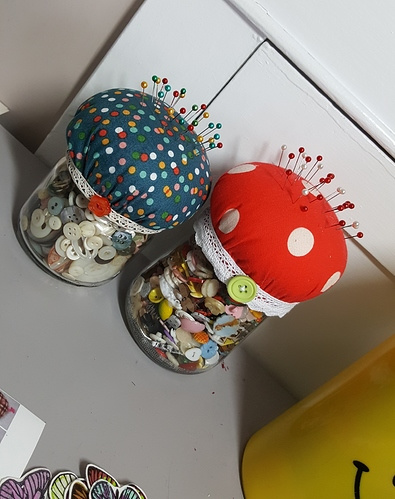 Memories of mom's button box. The feel of them thru my fingers. Trying to find my favorites. I have a much smaller button box, with cheap colorful buttons, metal buttons, old buttons, etc. Never enough. I have actually caught myself not using a button because it's my favorite, what would the box be without that button?
I dig through my button jar as well and come across some favorites…I usually bypass them and pick another button, but finding the ones I love still in there makes me happy.
Some of my favourites aren't actually buttons, these are from my great grandma's button box:
I have tons of these: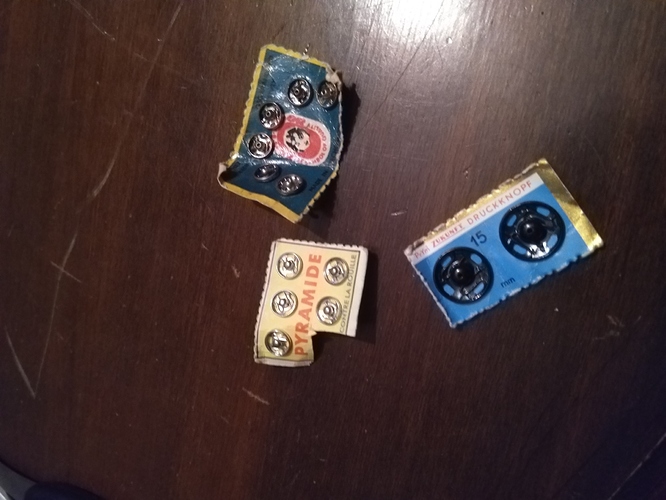 Some random favourites: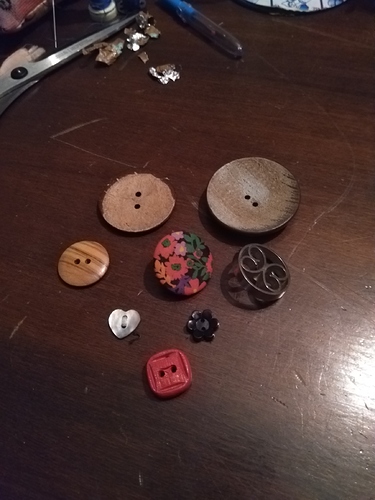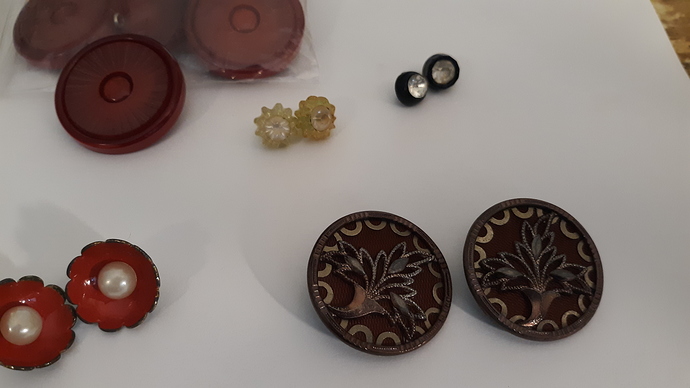 The big red buttons were off a swing coat of my mother's from the 1940's…the smaller ones are also from her clothing from the 1940's and 1950's…
The lower two are actually metal with fabric in the background…I have six with none of the fabric deteriorating…they are from the Victorian era…
Wow, Victorian buttons? That's really special! Do they come from your family or are they vintage finds?
I think the oldest ones in my box are 40s/50s but most are plain white/black/brown, not as pretty as your mother's buttons! I love it when I know the background story of a button. The mother of pearl heart in my picture is from something I wore as a kid.



! Such pretty buttons & great memories!! I'll go find my favorites later tonight and post pictures!
My mother's niece was a clothing designer and dressmaker in Japan. I received fabrics and lots of sewing things from her…they were items she had purchased for her clients that they did not want or were extras. She collected vintage metal buttons.
I don't know too much about them except that one is for sale on Ebay for about $15 each. I thought someday I would make a fabulous coat and use them. Someday…
It is such fun to see all the different types of buttons

Ok these are only a tiny fraction of my favorite buttons, but I had them on my phone already! I took photos for a project I was working on with husband.
These are very large buttons that were in my mother in law's house, in boxes with her mother's sewing things, when we cleaned it out years ago.

These are a couple of my Czech glass and resin buttons. Both of the metallic grey are glass. The big red one is 70s resin

A random mix of glass and resin - these are mostly black and super hard to photograph…

Metal and plastic - I think the frosted green ones are also from my grandmother in law's stash…

I have a bunch of metal buttons I just bought in August in Tokyo that I still need to photograph…
These are actually buttons - standard polyester material: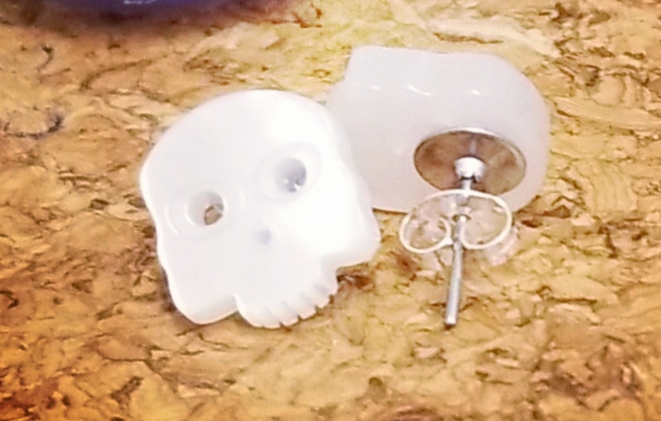 Interesting buttons! Love the three holed white one and the little blue starry one…how wonderful that you have these from your grandmother!