This is one of my partner's favorite desserts - I love when he requests it because it's so easy to put together! My recipe is only slightly modified from this recipe by Crazy for Crust. I found I wanted more chips and a bit less sugar.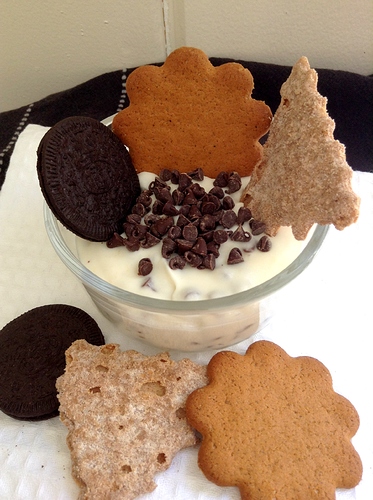 Ingredienets:
8 oz cream cheese
15 oz ricotta cheese (drained if there's extra liquid)
1.5 cups powdered sugar (can be 2 cups according to your taste)
2 tsp vanilla extract
fresh lemon zest (half a lemon worth)
1.5 cups mini chocolate chips (semi-sweet)
First, let the cream cheese soften to room temperature. I used my kitchen aid with whisk attachment to cream it smooth, adding the ricotta scoop by scoop. This beats to a nice, light, creamy texture. If you prefer more of a thick spread than a dip, reduce the ricotta and the sugar by up to half.
Slowly mix in the powered sugar, vanilla, and lemon zest. Mix in the chocolate chips by hand.
Then the fun part, pick what to use for dippers! My partner's favorite is cinnamon sugar chips, and I like Anna's Swedish ginger thins. We both agree that Oreo thins are also great.