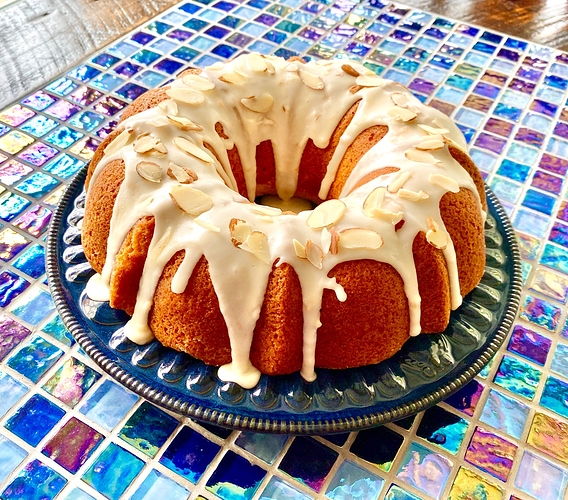 I was so excited to have the lovely
@pottermouth
and her daughter stay with us last night. In honor of the occasion I decided to make a Mediterranean diet-friendly olive oil cake to celebrate. This recipe was adapted from a recipe by
Katiebird Bakes
. Here's my version.
For the cake:
1 c whole wheat pastry flour
1 1/2 c all-purpose flour
1 1/2 tsp baking powder
1/2 tsp baking soda
1/2 tsp salt
3/4 c granulated sugar
3/4 of the zest from one large grapefruit
2 large eggs
1 cup yogurt (I used non-dairy coconut yogurt)
1/2 cup olive oil
1/2 teaspoon vanilla extract
1 large grapefruit
1 orange
1-2 tangerines
Glaze:
1/3 cup fresh citrus juice
1 tablespoon granulated sugar
Icing:
2 tablespoons glaze (see below)
1 cup powdered (confectioner's) sugar
1/4 of the zest from the grapefruit
Pinch of salt
Sliced almonds for garnish
Preheat oven to 350 degrees, and grease a bundt pan well with cooking spray, and sprinkle in some granulated sugar. Set aside.
Zest & juice your grapefruit. Juice your orange & tangerines, until you have close to 1 cup or mixed citrus juice.
In a medium bowl, whisk together flour, baking powder, baking soda, & salt; set aside.
In a large bowl, rub the sugar and grapefruit zest together with your fingers until the mixture is fragrant.
Add the eggs, yogurt, olive oil, vanilla, and 1/2 cup of citrus juice to the sugar, and whisk it all together until well combined.
Add the flour mixture into the wet mixture, and stir until just mixed.
Pour the batter into your bundt pan, and bake for 35-40 minutes, until the cake is golden around the edges, and cooked through.
While it bakes, prepare the the glaze and icing:
Glaze: Place 1/3 cup citrus juice and 1 tbsp granulated sugar in a microwave-safe measuring cup or bowl. Microwave on high until bubbling and sugar has melted, about 1 minute. Whisk together and set aside to let cool; reserve 2 tbsp of the glaze for the icing.
Icing: whisk together 2 tbsp of the prepared glaze, the powdered sugar, remaining grapefruit zest, and salt in a small bowl until smooth and pourable. Set aside.
When the cake comes out of the oven, immediately poke holes all over the surface of the cake with a wooden skewer or toothpick. Pour the glaze over the hot cake slowly, allowing it to soak in.
Let the glaze soak into the cake for 15 minutes, then turn the cake out onto a wire rack.
Once the cake is released and cooled, pour the icing over top, and garnish with slivered almonds.