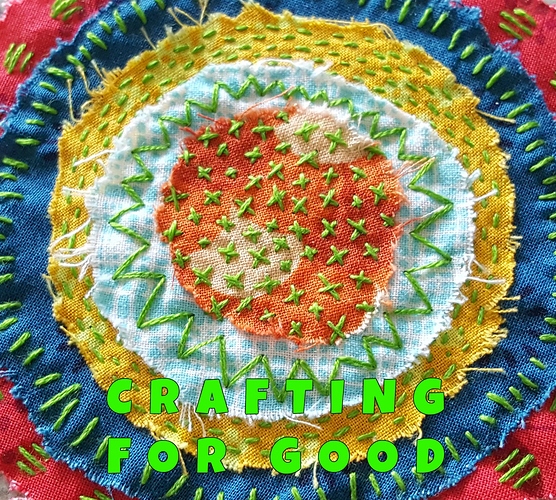 How about a quarterly craftalong for a charity of our choice? Or it could be certain much needed items that we can donate to our local community. We could take a poll to decide what we would like to work on. For example, right now we could knit or crochet hats and scarves and donate them locally. Thoughts?
Edit: It looks like we've more or less decided we need to craft for the animals in Australia

First Quarter (January - March)
Animal Rescue Craft Guild (Australia) - Sewn, knitted, crocheted and loomed items
We will be working on joey pouches, bird/rodent nests, flat bat wraps, hanging pouches, 3D pouches, animal beds, etc. to send to the Animal Rescue Craft Guild (ARCG). These items will be used to aid in their rescue efforts. Their facebook page has pattern links on how to make these much needed items in a variety of ways - knitted, crocheted, loomed and sewn. It also has information on types of recommended materials, etc.
https://m.facebook.com/groups/arfsncrafts
When you've finished your items, you may either send them directly to their location in Australia, or you may send the items to your nearest hub.
Let me know if you need any other information, and let's get crafting!

NOTE:
As of January 11, 2020 the guild has requested that folks finish up what they have and pause crafting while they reassess their needs.
Latest update on requests by the guild

Small Things Matter (USA) - Bookmarks for children
Small Things Matter (STM), a student-run 501(3)c nonprofit, is founded on the idea that small acts of kindness can make a big impact on someone's life. They are committed to helping others in need through literacy, crafting for charity, and food rescue programs. Through the Books for Bedtime literacy program, free books are distributed to at risk-children at food distributions. At these events, the children are given a new book of their choice to take home to keep and read. STM also hosts school-wide distributions of brand new books at low-income Title I schools as well as "preloved" books at regular public schools. At these special distributions, students are also treated to a handmade bookmark of their choice.
Bookmarks of all shapes and sizes would be appreciated. In general, they are approximately 2" wide x 7" long and use cardstock. Please note that bookmarks should not have content that might be deemed offensive (e.g. sex / religion / politics).
Here's a link to bookmarks made from fabric paper (inspired by Magpie/craftylittlemonkey):
smallthingsmatter.org
Paper-Fabric-Bookmarks-Instructions.pdf
Bookmarks can be sent to:
Small Things Matter
14516 Bauer Drive
Rockville, MD 20853
USA