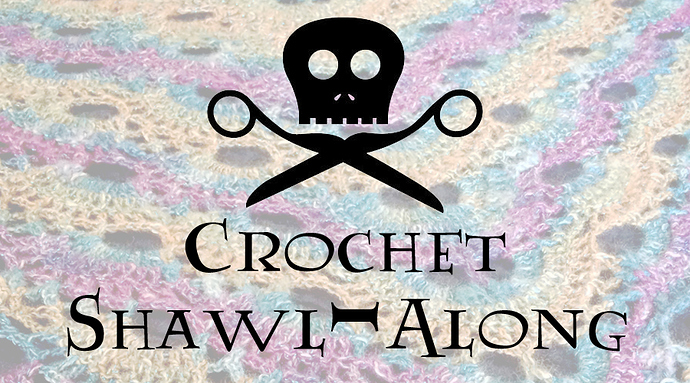 This Crochet Shawl-Along is a place to share your crochet shawls, shawlettes, and wraps of all kinds. Each trimester, we will have a challenge theme to help inspire us to create a new shawl. You are more than welcome to participate in the challenge, or ignore it completely. Not everyone will be inspired by the current theme, and that's okay. We're just here to have fun, and create beautiful things.
Why should we all crochet-along our shawls?
To share photos of our work, support one another, and pass on tips & information about patterns!

Instagram Hashtag
If you're on Instagram use the hashtag #LettuceCraftSAL to show off you Shawl-Along work.
Links to Shawl Patterns:
Ana Lucia Shawl - Free Pattern
Anna's Shawl - Free Pattern
Beach Vacation Shawl - Free Pattern
Bella Vita Shawl - Free Pattern
Cakes Two to Tango Shawl - Free Ravelry Pattern
Candy Kisses Triangle Scarf - Free Pattern
Clapochet Scarf/Shawl - Free Pattern
Cockles of My Heart - Free Pattern
Crazy Eights - Free Pattern
Crescent Shawl - Crochet World Magazine, March 2018 (in Jennie's stash!)
Crochet Between the Lines Shawl - �1 (about $.82 cents)
Daisy Chain Shawl - Free Ravelry Download
Delicate Shells Shawl (Rectangular Wrap) - Free Pattern
Earl Grey Wrap - Free Pattern (w/option for paid ad-free version)
Edlothia Shawl - Free Pattern
Erigeneia Shawl - Ravelry Download
Favorite Guy Reader's Wrap - In Jennie's collection
Foxy Loxy Shawl by our own pottermouth - Free Pattern
Fortune's Shawlette - Free Pattern
Joyful Josie Shawl - Free Pattern
Klaziena Shawl - Free Ravelry Download
Lizard Shawl - Free Pattern
Lost In Time Shawl - Free Pattern
Lunar Crossings Shawl - Free Pattern
Magic Shawl Heaven - Free Ravelry Download
Mezzaluna Shawl - Free Pattern
Mostly Harmless - Free Ravelry Download
Mystic Morning Wrap - Free Pattern
My Story Shawl - Free Pattern
Namaqualand Shawl - Free Pattern
Naturally Southern Scarf (Shawlette) - Free Pattern
Never Ending Shawl - Free Pattern
Pentagon Shawl - Free Pattern
Pom Pom Happiness Shawl - Free Pattern
Quiraing Shawl - Free Pattern
Revival Triangle Scarf - Free Pattern (& Video Tutorial)
Rio Arriba Shawl - Free Pattern
Saffron (Our Mrs. Reynold's) Shawl - Free Ravelry Download
Secret Paths Shawl - Free Pattern
Seraphina's Shawl - Free Pattern
Simple Crochet Shawl - Free Pattern
Simple Gradient Triangle Shawl - Free Pattern
Starburst Shawl - Youtube Video Tutorial
Summer Drop Shawlette - Free Pattern (long narrow triangle shape)
Summer Morning Shawl Free Pattern
Sunset Peaks Shawl - Free Pattern
Tango Shawl - Free Pattern
Teal Tenacity Shawl - $5.50
Tea House Wrap - Free Pattern (w/option for paid ad-free version)
Virus Shawl* (see below for chart & video links)
Virus Meets Granny Shawl - Free Pattern
V-Stitch Vortex (boomerang/distorted triangle) - Free Pattern
What You Love Shawl - Free Pattern
Wonder Woman Wrap (Crochet Version) - Free Pattern
Wrap Me in Diamonds Scarf/Wrap - Free Pattern
Yarrow Triangle Scarf - $2.99 (but made for bulky weight yarn!)