These poor little earrings have been 'in process' for ages! I bought the Swarovski crystal skulls when they first were released 2-3 years ago. I knew I wanted to make earrings, but every time I tried, I had trouble getting any sort of design to work with them. They are clearly an awesome little focal bead, but they needed to be shown off in just the right way. So they have sat on my jewelry work surface in a little catch-all bowl for all that time.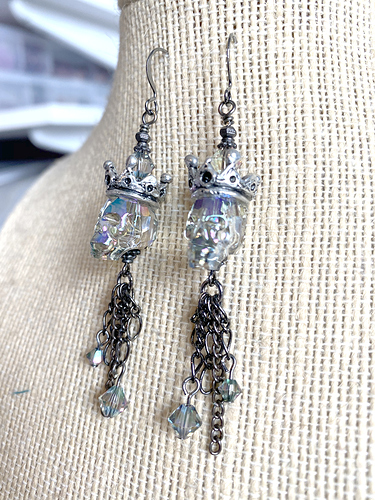 I realized they needed little crowns about a year ago, and found some cool ones that fit just right in my stash. I used flush cutters to remove the charm loop, and then some metal files to clean up the cut. Since they are pewter, the metal was easy to file down. I glued the crowns in place with E6000, and tried again to make some earrings out of them, but nothing seemed to work just right. Eventually the poor little things got dumped back into that catch-all bowl.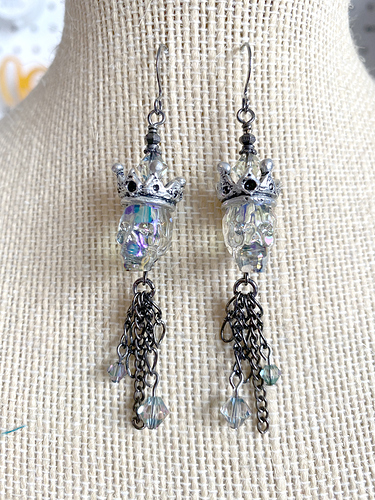 Finally, as I was doing a big clean of my studio last week, I came across them again, along with two in process necklaces. I cleaned up everything else, but pulled these out and placed them dead center in my empty work space, so I'd have to see them everyday until I did something with them. I spent well over an hour futzing with them last night, and another 30 minutes this morning, until I finally came up with something I'm happy with. I added tassels of gunmetal chain, along with a few AB2X crystal beads to match the skulls, and finished them with some tiny gunmetal bead caps. And now I'm wearing them around the house feeling completely badass.