Wow. I happen to think this site is really bad ass. Good work!
(testing a Feedback post

)
This is totally awesome! Looking good!
it shows when someone is replying (live)!
@kittykill i'm trying to show you features, so i'm using them
I love the little prompts too. It will be great for people who are just starting out.
back to cpanel/linux hell - i'm having an issue with the subdomains and cannot seem to 1. easily redirect "letuscraft" and mask the forum.lettucecraft.com so back at it
YOU EARNED A BADGE!!! Way to go, reading those guidelines.
Everything looks fab! Wow, whata fresh new look; color me impressed!!
Hannah is going to be here until later this afternoon. I'm going to squeeze every last minute out with her, and then I'll be around.
New home is so clean and pretty. Best New Year ever!

I'm really digging those adorable hipster animal icons for each category.

I may or may not have spent entirely too much time on those.
Did you design them all yourself?!? They are AWESOME! Love them so much. I hope they have names

I hope they have names too.
Names! So we can say - I was over at Fred's and… (Fred

)

OH MY GOSH. THEY DO NEED NAMES.
Only one has a name.
We have these plates hanging in our kitchen. One day, Ezra was like, "Mom, I really like the blue plate most." I asked him which one, and he said, "The one right above business fox."

Now everyone just calls that one business fox. It makes us laugh so hard.
So when I started designing the site, I was trying to think of category icons. Many sites use thread, scissors, etc. I knew we needed something more than that, though. And so, the animals were born!
The base animals are from a designer and I edited them to suit our categories and site style. I mean, the bear needed a scarf, if he was going to be on Fiber!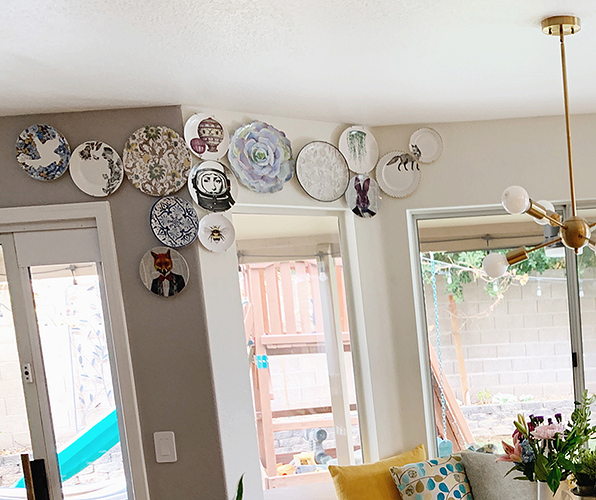 she of course thought that was necessary around 3:15am and got out of bed, and started her day. Having gone to sleep around 1:30, it was a long day hehehe
@mr.sweets4ever, I love that you have a unicorn Avatar