I am so excited to finally be done with this rug! I can't find an exact start date for it, but it's at least been on my 50 projects list since 2017, and could be from several years before that, even.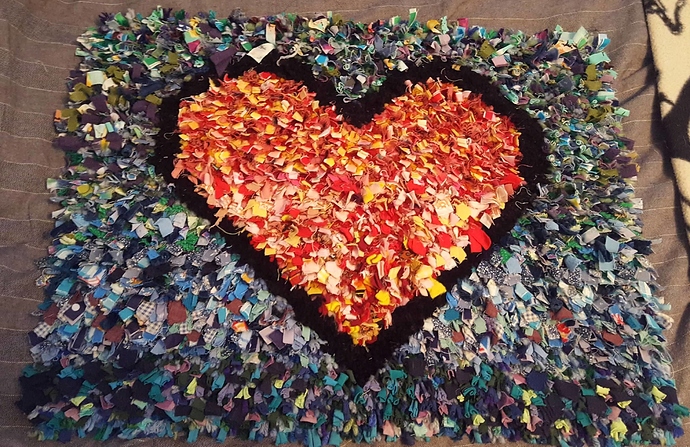 This was born out of a desire to do something with all of the leftover latch hook yarn that I'd accumulated over the years, since they always give you some amount of extra in kits, and I'd been making kits since I was 8 or 9. However, I didn't think I'd have enough yarn alone to finish my arbitrary rug size (18" x 24"), so I hit on the idea of alternating yarn with fabric pieces, starting with t-shirt yarn that I had around. I sketched out and hooked in the black heart shape first, then just slowly filled in with warm colors inside the the heart and cool colors outside the heart, in no particular order. Once the hooking was done, I cut down a grippy rug pad to size for the back, and hand stitched binding from my stash onto the latch hook and down over the rug pad.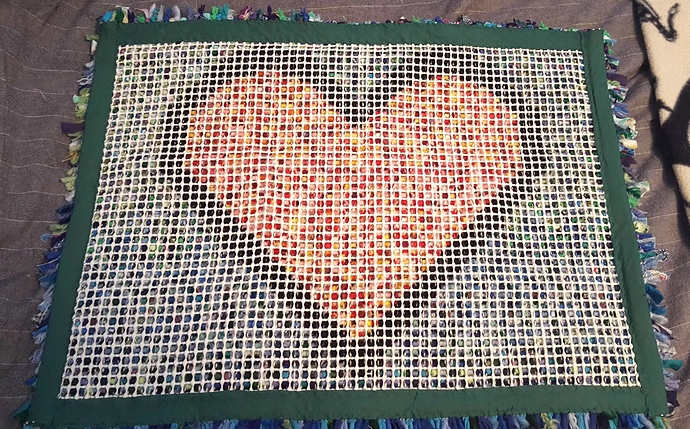 Things I Learned from This:
Latch hooking fabric is takes significantly more force than yarn, so it is a LOT harder on your hands. It definitely is much harder to get into a "flow" because you're almost always having to help the fabric through with your other hand. Or prying through with your fingernails in the case of particularly bad ones.
The fabric pieces need to be much skinnier than you think. I don't know why I couldn't get it through my head that to work like yarn, the fabric should ideally only be the same width as yarn.
The best fabrics to work with are the least likely to stand up to long rug use - knits, sheers and other soft fabrics were the easiest to use.
In general, the fabric overpowered the yarn for the final appearance. I'm honestly not sure if you can tell there's yarn in there in some places. This could be fixed with much more aggressive trimming or cutting more uniformly to begin with, neither of which I was willing to do.
You can create a lot of variation with a relatively small amount of color variety. I had a lot of different yarn, but I usually only had 3-5 fabric scrap types on the go at any one given time.
I really need to find a thimble I can work with. Sewing on the binding almost killed me. But that's not an inherent flaw in the project.
All that said, I generally wouldn't recommend latch hooking fabric, and I definitely won't be doing it again for a good long while. But am I glad to own this rug? Yes. It also seemed to be a hit with the cat population in my house as well.