My quilt is done. I really enjoyed making this one and since I used some of my favourite fabrics from stash, I'm keeping it. It's a great pattern to showcase special fabrics.
All the fabrics have a Japanese/floral theme. I used simple grey cotton for the shadow and white for the sashing. The border is the same grey as the shadow. If I'd had enough black for the border I would have used that.
I looked at a lot of finished projects on line including this helpful tutorial https://youtu.be/qBSZxu3nHDI the one thing I wanted, to really make the fabric pop, was a narrow black border around each accent fabric. (Borders make most things better, ATC, Quilts, scrapbooking etc. And I really think the accent fabrics benefited.) However it did mean I had to figure out a pattern
I kept a log of how long it took to piece the top. Including futzing with the pattern and cutting, it was about 7.5 hours.
The batting is an old woollen blanket and the back is plain. Quilting was simply a border around each accent square(more borders!)
I love how it messes with your eyes. It was a little too long for my washing line to get a good picture.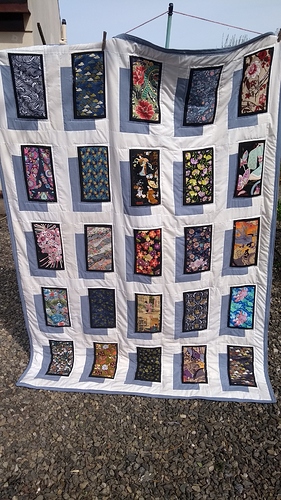 You can see the overall effect a bit better here.