I picked up the strand of these iridescent crystal shard beads for some project in our previous home. (Perhaps the Prehistoric April Fools festivities?) They were neat looking and on clearance, so they came home with me. Sadly they didn't end up getting used for any of those projects, and they've sat on my desk for a while since. I just couldn't figure out exactly what color I wanted to use with them. I knew I wanted to use one of the highlight colors from the iridescent finish, but nothing I had seemed just right.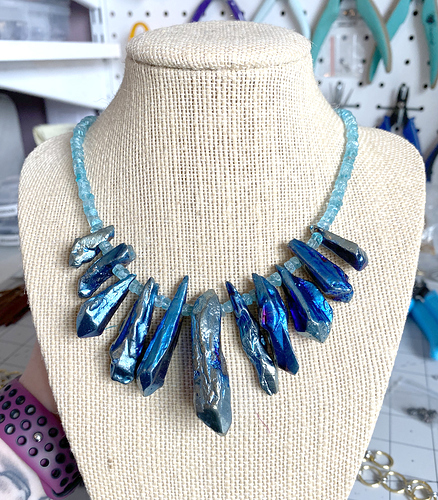 Finally while digging through my stash for something else, I bumped into a strand of apatite beads I had purchased on a whim because the color was so beautiful. They perfectly matched one of the highlight tones, and brightened up the overall tone better than something dark blue or purple would have. Back in December I strung them onto beading wire, and the whole piece has sat there since, until yesterday when I decided it had to get off my table. I ran some errands, and while I was out I picked up the wire guards I needed to finish it off, and 5 minutes later it was all done! It's amazing how often a project languishes in want of 5 minutes of work.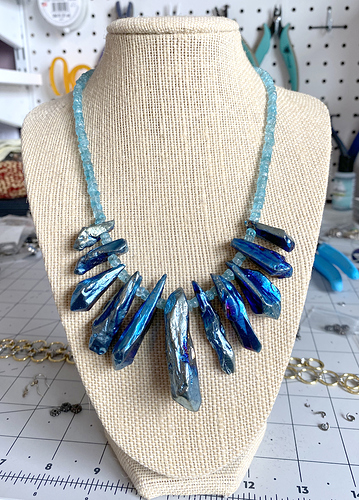 The necklace display often shows things in an unrealistic way, as its neck is much smaller than a human neck, so it appears to hang lower than it really does when place on the display. In the top picture I'm holding it pulled up on the form, which shows a more realistic view of how it hangs on the neck. The lower pic shows it just resting on the form.