This is a fairly recent make! I think I finished it in October? My starting point was Simplicity 1558 with some input from Simplicity 2777. More on that in a minute. First, the reason I chose to make this:
Last winter, I was going into the library when I saw a woman in a short pencil skirt, nylons, and heels heading out to her car. It's February. There is snow on the ground. She is obviously freezing. And the thought occurred to me: Fashion is stupid. Not that she didn't look nice, but could she still look nice and be warm at the same time? Having turned 40 just a few months before this, I had been spending a lot of time thinking about life and stuff and one of those thoughts was, "Ima wear whatever I want to wear regardless of current fashion." That thought was also inspired by that young man in London who wears Regency era clothing everyday (the BBC interviewed him awhile back).
So it was with all that in mind that I made this skirt. It covers my legs (plus I wear thigh-high knit socks and "granny" boots). So: warmth

pretty

I suppose functionality could be debated, but so far it hasn't impeded me a whole lot. I made it out of linen which I probably wouldn't do again. All those ruffles are heavy. By the end of the day, I'm ready to get out of it because the weight pulls it down in the back causing the waistband to cut into my stomach. Not fun. (But! I am working on a corset and wore a test version under this today and the structure of the corset kept the skirt from digging into me).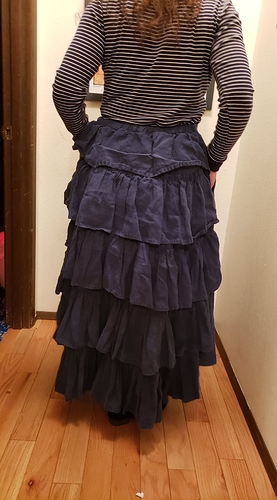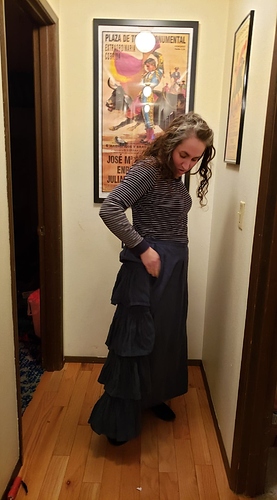 The front hem looks shorter, but that's because of the ruffle weight pulling it all backwards. I have to shift it forward through the day.
The original pattern has a zipper in the center back. Well, I have been having some weight fluctuation (mostly in the upwards direction, hmph, thanks 40s

) and didn't want to "outgrow" my new skirt. Elastic didn't seem right to me since the front panel is supposed to be flat. This is where S2777 comes in – last year sometime I had made the bloomers and they used a ribbon drawstring in the back. I tweaked the pattern and did the same thing on the skirt. The ribbon ties are sewn inside the waistband at the side seams, so when I cinch it up, the only gathering that shows is over the top ruffle. My helpful dh tucked in the ribbons before he took the picture, so you'll just have to imagine it. The other tweak I made was putting in pockets!!! Because we always need pockets.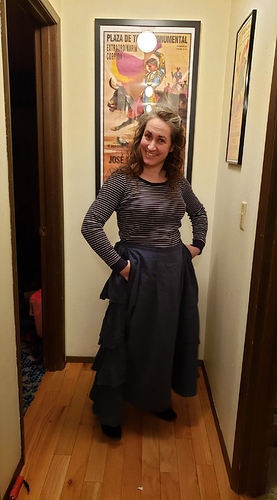 Jeez, I am such a cheese ball.