My daughter is in love with the creatures of Puffin Rock so I decided to use up some stash to make her a wee stuffie of the youngest character. I used this design:

Because I am determined to use up what I have in house I improvised the yarns (used lily sugar and cream for the white and yellow and some unknown remnants for the gray and black).
The design uses felt that is cut and layered for the eyes but I had no felt. The designer mentions needle felting eyes and of course I didn't have the colors I needed, so crochet it was. First tried layered disks, but the poor thing looked too bug eyed so then I did it as a single circle each. It isn't perfect, but one of my 2020 crafting resolutions is to stop letting perfect get in the way of completed.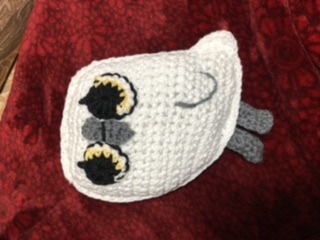 Thanks for looking!