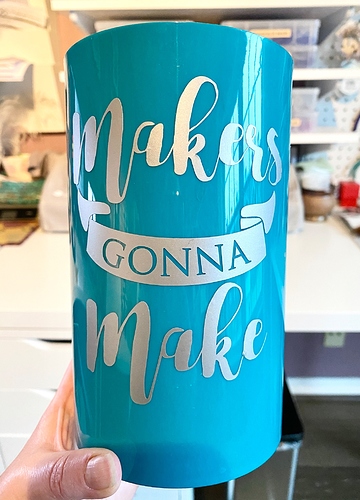 I have been thinking about what to make for this challenge, and it was hard. A few weeks ago I bought some new silicone kitchen utensils, and they came with a rather ugly holder, in bright teal plastic. I knew I'd never use it, and tried to think of ways to repurpose it, but failed, so it went into the recycling. Look how boring it was!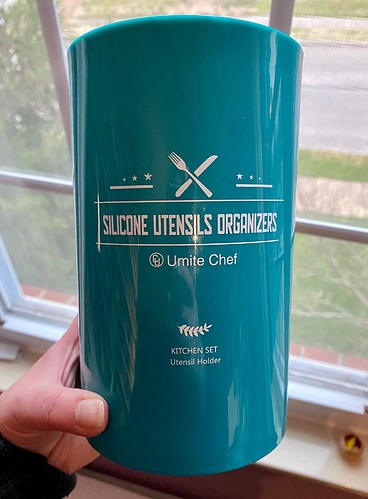 Fast forward to Friday, when I was cleaning the house in preparation for a visit from pottermouth. I was putting away some stray bits and bobs in my studio, and I noticed the canister I had my tall rulers in. It was a repurposed pirouette cookie tin, that I had covered in scrapbook paper to match my craft room/husband's office, back when we lived in Bowling Green 6 years ago. The colors no longer match my space, and it's lightweight, and prone to tipping over. Brain wave! Go grab the utensil holder out of the recycling, and give it a makeover.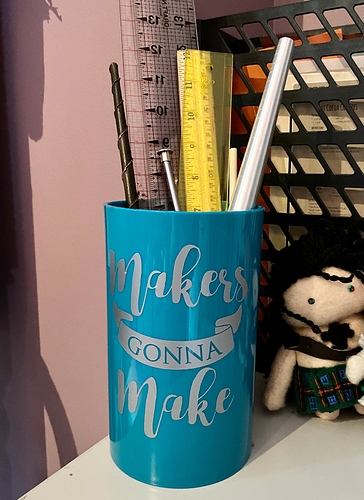 The cut file came from the Silhouette design store, and it had lots of cute little stars all around it. Sadly they did NOT want to transfer with the text. But that's fine. I kinda like the cleaner look without them. And here it is, corralling rulers, and keeping the little felt Scotsman company.