We were to have a couple of TheMisterT's Dude Crew here over Easter weekend, so I decided it would be fun to give them Easter baskets. And then I decided it would be fun to riff on a running joke involving pandas.
I used files for a bunny basket from svgcuts.com to cut the paper with my Cricut Explore. I made my own eye patches file.
In order to get that cute little nose I had to also cut the inner ear pieces, meant to be pink for the original design. I decided to go ahead and use them; I think they add to the panda-ness of it!
I used some aluminum wire from stash, painted with black spray paint I had on hand.
While neither of the Dudes have not officially cancelled their visit, it sure sems unlikely - at least for the one who would fly in from out of state. So I may not get to make the "real" ones.

I did another variant on this pattern! A jackalope!
UPDATE: I went ahead and made them for The Dudes and will be mailing them off filled with goodies since the Easter weekend visit has been cancelled.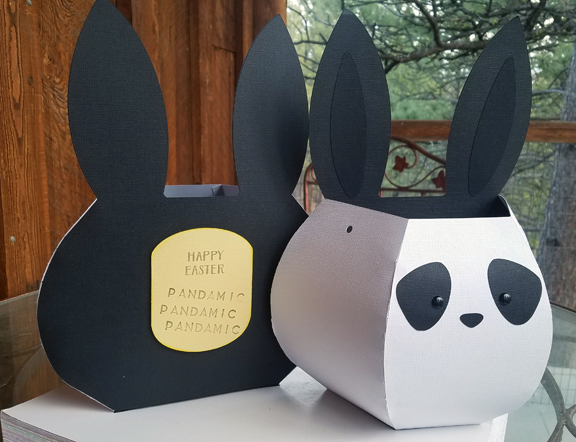 The running joke about pandas is in reference to that Desiigner song, "Panda." Which they all love, but… well, let's just say I do NOT love it. Anyway… that's the story behind the "senitment" on the back back back.
These are one of the treats going into them. Also they're be some Panda brand raspberry licorice and a Lindt carrot-shaped chocolate. I'm going to help pad out the box with a roll of TP to help mark the occasion, too.