Since Pi day (3.14) is on a Saturday this year we (work peeps) decided to celebrate today! My pie is best made day of so my happy butt got up at 4:30 to do so.
Crust:
12 graham crackers, crushed
6 tbsp. butter, melted
1/3 cup sugar
Combine ingredients and press into 9 inch pie plate. Bake at 350 for 10 minutes
Filling:
2 large green apples, small diced
25 mini snickers, quartered (reserve 5 for topping)
1/4 cup sweetened condensed milk
2 1/2 cups whipped cream
4 oz. cream cheese, room temp
1/4 cup caramel (for drizzle)
Combine cream cheese, whipped cream, and sweetened condensed milk and whisk until combined. Fold in diced apples and the Snickers (minus those reserved) and turn out into pre baked pie crust. Garnish with reserved Snickers and caramel sauce. Refrigerate 4 hours. Enjoy!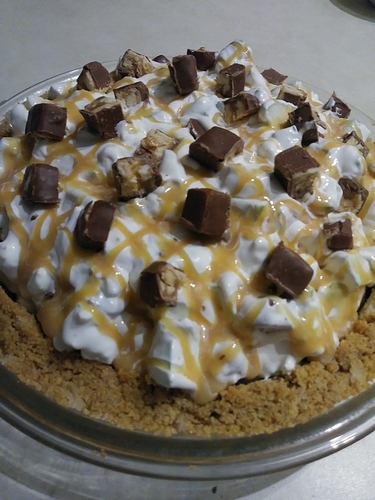 P.S. I also made 2 other pies last night and I will post their pics (and recipes) when I get to work