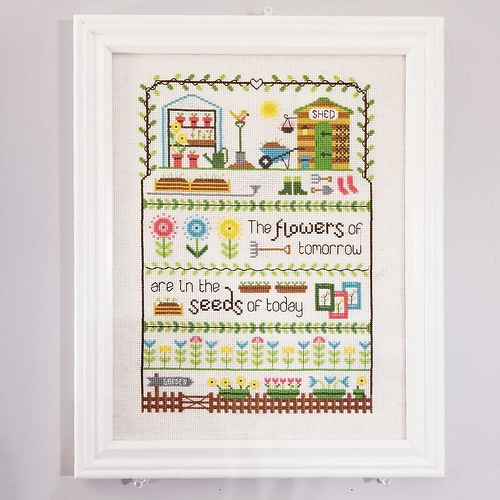 I started this piece a couple weeks ago and toward the end I definitely had a love/hate relationship going on. (That's how I get with
any
big project.

) In the end, I'm glad I stuck with it - I love the little shed and greenhouse!! I temporarily framed it just so I could hang it up right away.
Ya know, the world is ending so I'm responsibly just using a frame I had on hand temporarily.
Size: 8 x 11 ish
Fabric: 18 ct oatmeal Aida
Pattern: The pattern is by Faye Walsh of Little Dove Designs and I got it from the April 2020 issue of Cross Stitcher magazine.
Fun Factor: I loved the little gardening bits and the lettering. The top picture with the greenhouse and shed was my favorite.
Not-So-Fun Factor: Got SO sick of green 905. I would have appreciated a wider color palette. I hated doing the repetitive leaves/borders. It seemed like a slow moving pattern.
Changes: One color was slightly different since my store didn't have any. All other "changes" were tiny mistakes in counting where I said "Eh, screw it." and left them. None were noticable unless you somehow had the pattern memorized. I messed up counting and placement on this SO many times.

Now for a couple more shots: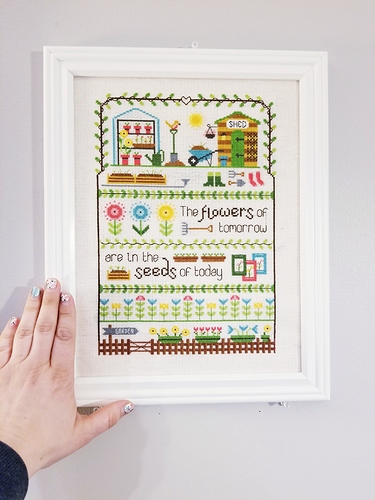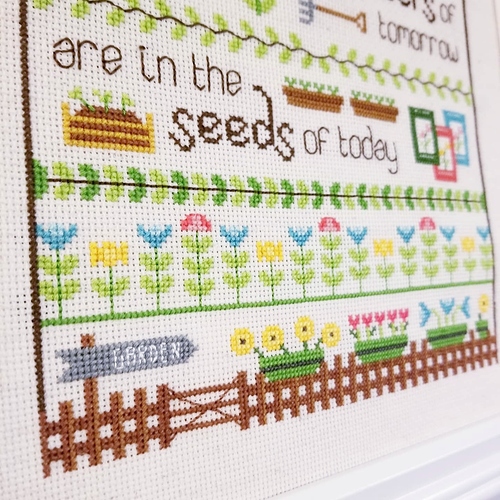 Thanks for looking!