Yes!!! More masterboards!!! It looks awesome!
Masterboard, sock, bracelet and foods… everything is looking great! I love this thread with it's varied mediums.
I finished the sweater sleeves and neck today but in the morning I'll have to see if the neck is large enough to fit over my daughter's big melon, it looks small.
I haven't been too crafty the last few days. On Sunday I started cutting a quilt. And then the last few days I've just been making lunches and dinners. Though nothing fancy or hard.
Me: "I'm going to do crafty stuff for all of February!"
Universe: "Oh, you made plans? That's cute. What if I throw a bunch of crap at you instead?"
I should have known how it was going to go when the first day of the month my 18 1/2 year old cat declined and I had to let him go.
Then the next weekend at work I was trying to get an 80# dog to roll on her back so we could see her belly and somehow bent my right ring finger backwards. I have trigger finger in that one so it was already inflamed but was stiff and swollen for a few days. No crafting for a few days after that. It still hurts but I can use it now.
Then this weekend my 13 year old cat with hyperthyroid & chronic sinusitis stopped eating as his sinus infection flared and I could not deal with losing another cat this month so he's been on IV fluids and syringe feedings this week. I've barely slept, getting up every few hours to medicate & syringe feed him. He's licking at a little food on his own now but not out of the woods yet. So that was my multi-day project for most of this past week.
But I have been working on some crafty things. I had a few fails and incompletes. I made more pom poms and some yarn confetti attempting to make a special heart shaped pom pom that never worked after several attempts. I made some macrame feathers which look more like leaves so now they're leaves. I tried my hand at needle-felting, made a hedgehog, attempted a tiny cat and a baby yoda. It turns out needle felting takes forever so those were all multi-day projects.
At this rate I'll probably just post pics at the end of the month. But I think I found my new craft love anyway, needle-felting. There's just something so satisfying about stabbing something until it changes.
Whew, hefty month. Very sorry about your older cat, and glad to hear the other is starting to get better. It sounds like even so, you're still creating more often than the average human being, so don't sell yourself short! Any moment you have carved out to be creative is good for your health. The finished product is a more whole you.

I finished my Sekrit Projekt, and then made ridiculous calendar-page envelopes to send it out in, and now I am mostly hip-deep in planning craft projects for my kid's birthday party on Saturday.
Aha! Now I know why I've had the song "Secret Lovers" ("yeah, that's what we are…") in my head all the past week. It started with your posting of this phrase. It's been driving me batty, wondering WHY???

One mystery down…
Here are the ATCs I finished over the past few days, while trying to get the earworm to be quiet: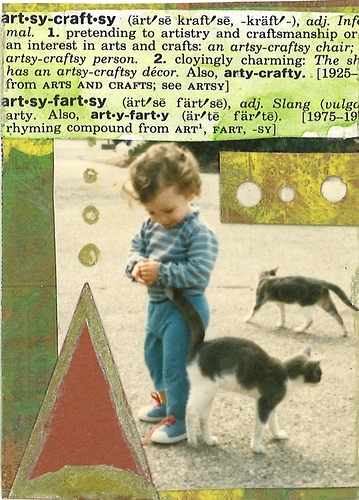 "Artsy fartsy, yeah, that's what we are…"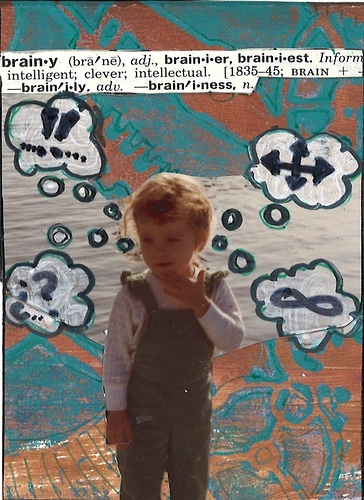 Background made by
@geekgirl
; the cogs didn't show up as clearly as I'd hoped when adding my stuff on top, so I outlined them to make them stand out a little more.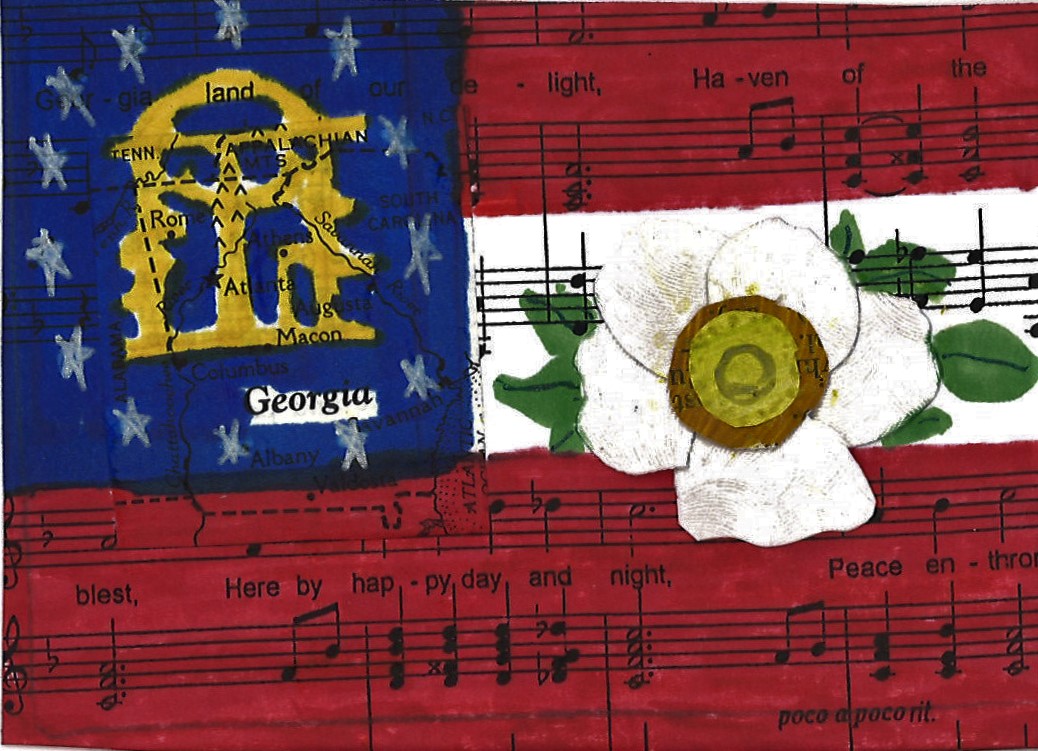 I gave myself the ongoing challenge of making an ATC for each of the U.S. state flags, and they're all kinda wonky so far but the challenge remains.
Fun challenge with the state ATCs!
Coming in to this a little late, but we still have 10 days of February to go. I think I will jump in with my entire To Do List and then set a short term goal. Please note that I have a grand-daughter due any minute between now and February 28th, so this could all go up in smoke…
Short Term Goal - Sew a Blessing Suit for my new grandson, Issac. He will be blessed on March 8th, so this project needs to be complete by February 29 for mailing.
Long Term List
Minkie Strip Quilt for Grandson Issac
6 Pre-1840 Reproduction Boys Shirts for Mtn Man Rendezvous events
6 Pre-1840 Reproduction Girls Dresses for Mtn Man Rendezvous events
Denim Quilt that I have been making for my son for 6 years
Tell the Bees Quilted Throw
Lightbulb Pumpkins for September Club Meeting
Club Christmas Nativity Ornaments
You have some cool sounding projects on your list!
If you want a longer term craft-a-long for projects there is also this thread:

My Very-Nearly-7YO recommends tomorrow for birthdays.
Good luck with the projects, before or after the new arrival!
I've been crafting most days. on days I don't come home straight from work I don't always craft if I get home too close to bed time.
I've been working on several projects but when I want something mindless and not messy I've been working on a lap blanket for myself.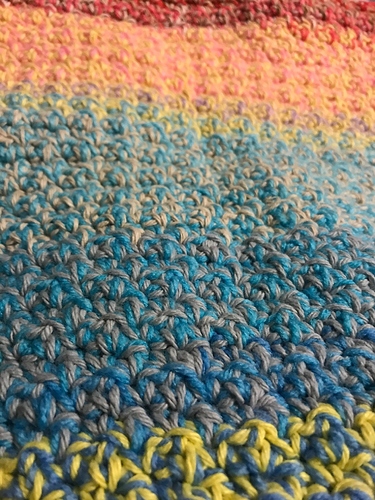 and its cat approved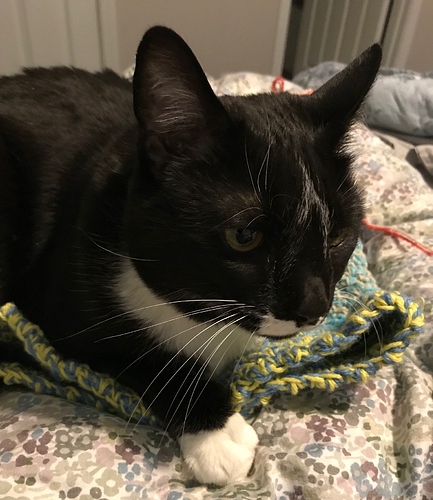 The yarn and bag the yarn is in (made by @WingsoftheWind are also cat approved.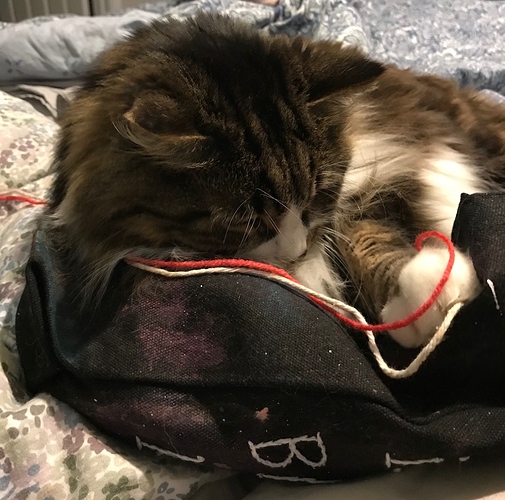 I thought I was making great (for me) progress on my Second Sock the past two days but today at lunch I figured out I'd made a rather big mistake in the ribbing the leg of the sock and I'm going to have to rip back to the cuff. So much for the hope I could get the pair done in a month!!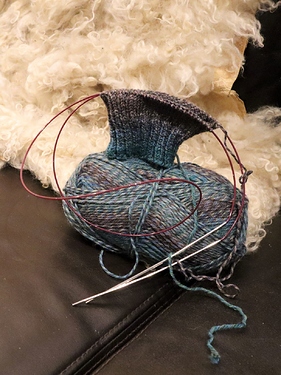 I just saw that one…I will take my lovely long term list and put it in where it belongs! Not what you think…I will put it in the 50 Projects for 2020.
oh no…there must be some sort of sock curse…it seems everyone is having problems with socks this month! Love that yarn…you still have time…we have another week to go!
@JoyfulClover and I are going to swap hoopla, so that gives me something to start planning and working on as I wait for the March stitchalong theme!
Today, I have written a little bit on a letter to my penpal, as well.
I made up for some "lost" time today, since I spent the last three days on the road.
I made another cross body bag. The finishing step about drove me up a wall. I have another cut out and ready to assemble, but I decided to step away from it instead.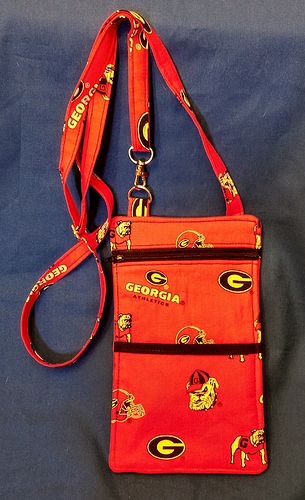 I've been playing with boxed pouch patterns today, different sizes and shapes.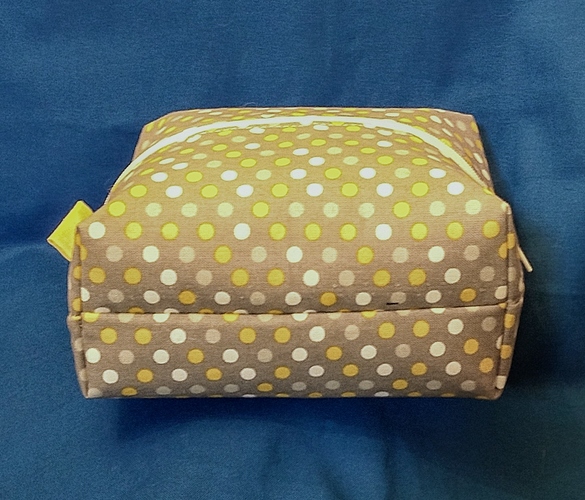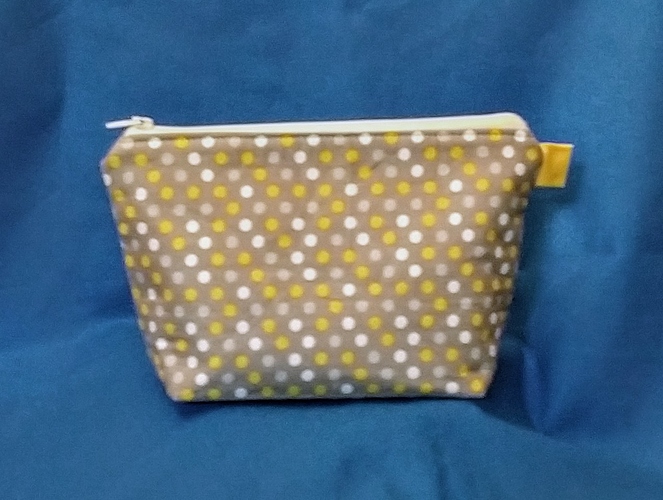 I made a spool of fabric twine using up most of my green strip stash! It is wrapped around a mailing tube, so there is a good bit there. Not exactly sure what I will use it for yet, but thinking I will use it as stems for flowers in some mixed media work…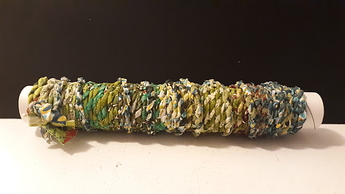 Also, had to make another trip to the DMV to tag and register my other car, so I was able to knit a few more rows on a scarf that I have been working on for over a year…I am almost out of yarn so it must be close to done!
I like that size…I, too, want to make a lot more pouches…