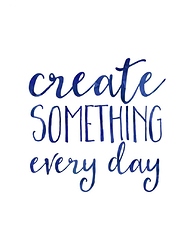 Do you want to challenge yourself and boost your creativity or output? Need motivation to work on a long project, or finish ones that are almost done? Want to feel the satisfaction of having Done A Thing today?
Join us in February as we try to get crafty with it for 29 days in a row!
What counts as your thing for the day? That's up to you! Some people set a time requirement for themselves, like 15 or 30 minutes of work, but there are no official rules. Your thing could be a finished object, or it could be just working a bit on a larger project. Making food counts too!







We encourage sharing pictures of what you did each day. If you're the list making type, you may make a post that you edit as you go to see all your things at once. But make sure you still post a new reply to the thread - it's easy to miss an edit if it's buried way upthread. And we want to see and encourage eachother!
If you'd like your tracking post linked, let me know and I will list them here.