I'm posting the photos from my phone but will add the recipe when I'm on a computer. Here's the recipe I usually use for my BBQ roasted chickpeas. It's adapted from Seriously Delish by Jessica Merchant.
1/2 T paprika
1 T onion powder
1/2 T light brown sugar
1/2 t chili powder
1/2 t ground black pepper
1 can chickpeas, rinsed and drained
1 T olive oil
Preheat the oven to 425*F.
In a small bowl, whisk together the spices and sugar.
Pat the chickpeas dry with a towel and remove any skins that become loose. Add the chickpeas to a bowl and toss them with the olive oil and 3/4 of the spice mix. Mix well to coat the chickpeas and then spread them on a nonstick baking sheet.
Bake the chickpeas for 20 minutes, toss them with a spatula, and bake for 15 minutes more. Remove from the oven and let cool on the baking sheet.
Taste the chickpeas and season with the additional spice mix if needed. If you don't need the extra spice mix, you can store it in a sealed bag for next time (or popcorn, or…)
These are best day of; they start to lose their crunch. You can store them in a sealed container for a few days.
This time I cut back on the onion powder and salt and added a dash of cayenne (that I'm not really picking up).
In my experience, the burned looking ones are usually the best ones, although some of these were legit charred

.
Spice mix: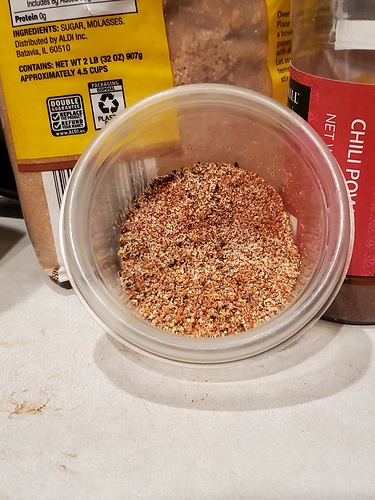 Fresh out of the oven: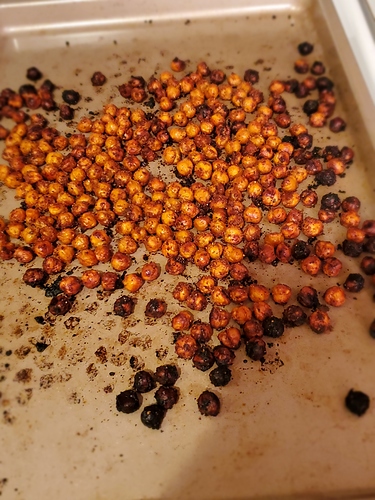 Artfully arranged and w/extra seasoning: