A friend asked me to make some hair accessories for her Japanese garden themed wedding, and I was happy to do so. She wanted a combination of spider lilies and wisteria. Her wedding colors are silver and white, and originally she wanted the wisteria to be white as well but I did them in purple+white first and she liked the pop of color better so we kept the purple.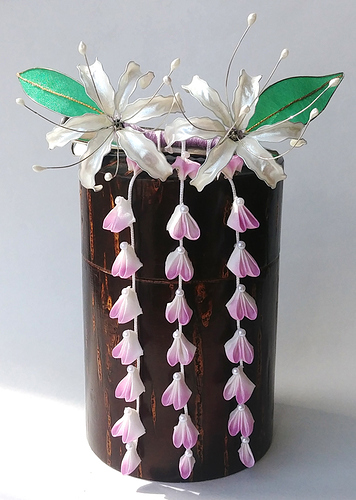 The spider lilies are resin with several coats of silver-white powder pigment and a finish coat of UV resin. The leaves are wire frames with silk and thread detail, and the wisteria are silk on a base of nylon cord with faux pearl details.
Since the lilies required very long curved stamens, I made them myself using silver wire, and a mixture of white PVA glue and corn starch. Once the glue/starch mixture dries it can be dyed, or painted. I covered these with the silver-white powder pigment I used on the flower petals.
Virginia has fine hair, and requested this piece to be mounted on a clip, so after I wrapped the wire with thread I used gorilla glue to affix it to a metal hair clip that I lightly sanded to aid with adhesion.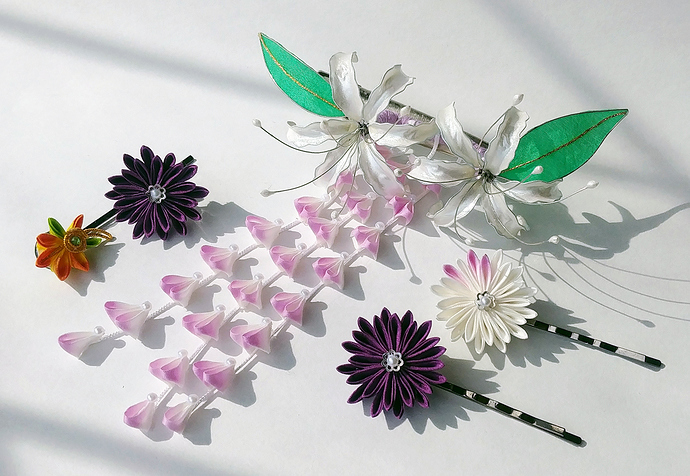 Her wedding is also fall themed, so I created some accompanying single hair pins and a lapel pin with flowers that are autumn oriented - chrysanthemums and a maple leaf.
I'm not sure when I'll be able to mail these out, or if the post office is accepting international mail at the moment, but I'll call them tomorrow to find out. :3 I need to mail my 'merican taxes out anyway.