@edel…can you post the link back to the challenge on your post so we can easily go back and forth?
I completed @Edel challenge of TENTACLES with a crochet jellyfish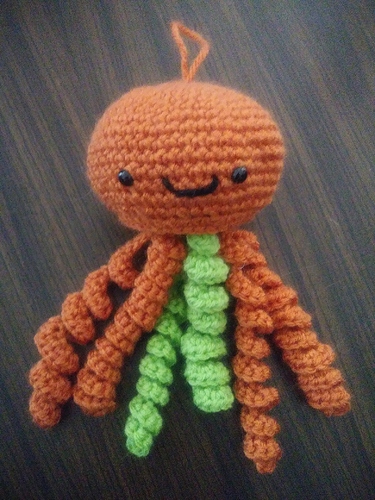 Pattern here:
My goodness you are speedy!! That looks great
@bethntim
My doodle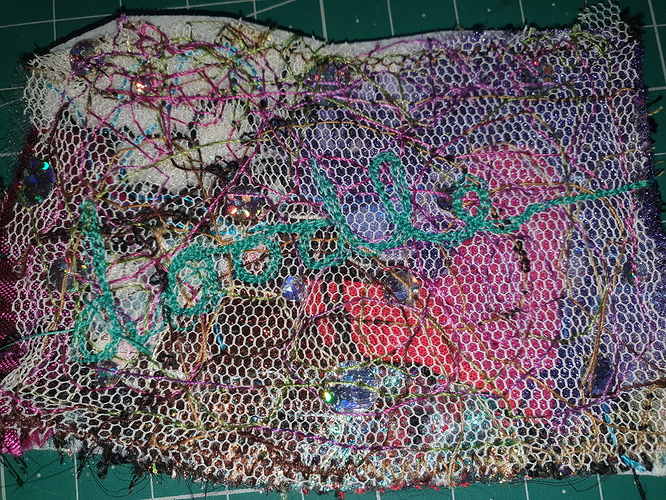 Not what I originally intended, but works for me.
The background is part of my first fabric masterboard, that I managed to rescue & not throw out.
Word is free motion machine embroidery.
that is freaking amazing!
wow…I love seeing remade fabrics using scraps and stuff!
The doodle is fabulous!
That was soooo fast!! I love the pop of green!
Thanks! That was literally opening the box and sticking my hand in!
It's amazing sometimes it takes me DAAAAAAYS to do stuff then other times I just fly right thru it. To be honest the "tentacles" prompt is what did it. I made one of these years ago for my neighbor and a leg fell off. Easy fix but I thought he needed a buddy
Oh ladies what fun! I hope this challenges me to do what I never do…
@bethntim wow, you are so speedy! Love the jellyfish (I so love that word)
@GMPNQ oh that is beautiful! What are you going to do with it? Very pretty!!
I have no idea



It will probably end up in someone's swap package from me

I am loving that the challenge is getting such interesting prompts…I see a few that I hope repeat so we can see more…
Pretty sure the rules are anybody can claim anything at any time but can only post a challenge if they are the first to post their claim in the thread. Right?
'cause I am gonna do some mash ups myself. Irresistible!
Oh my gosh, how fantastic. I love this.
Oh what a great idea! lol…here I was thinking you were going to trick out your car trunk… lol…too much British TV…
No one said we had to be successful, right?
@craftADDchick I did two tries to get this rosy maple moth!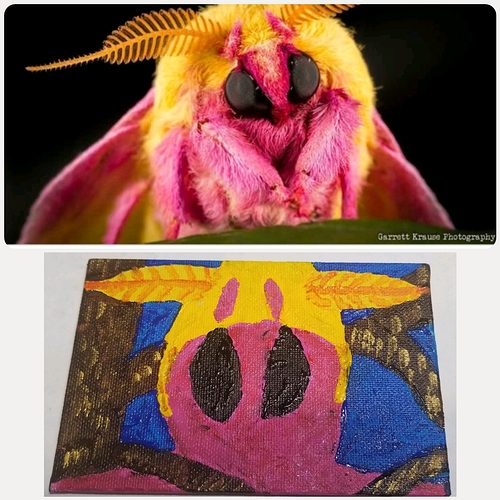 (Top photograph was my inspiration and found in a google search for cute insects. Photographer's name in bottom corner.)
My first try was awful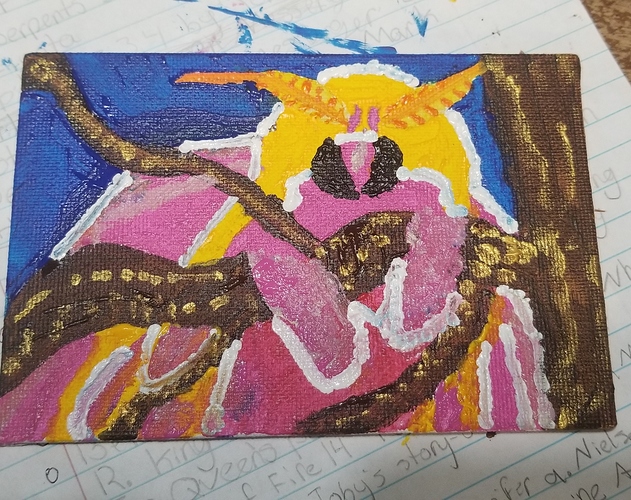 so I washed the paint off (cool) and tried again but did a more zoomed in look which is what you see under my inspiration.
I think it looks like a funky superman. Dh thinks it looks like an up close view of a giraffe nose! Hahaha
I may try something else tomorrow.