The lovely @MightyMitochondria and I did a personal trade, and I agreed to creating a merit badge for her. I looked all around her merit badge Pinterest several times and decided to make this one as a celebration of our new home here and a bit of a play on words!
Lettuce Craft. Crafts for Lettuce. (The food? The site? Maybe both?)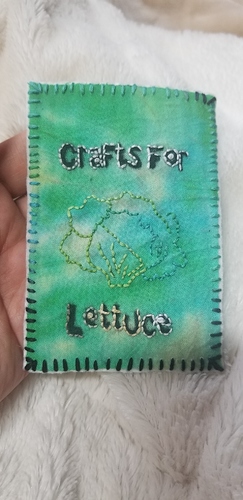 See the cool lettuce? Yes! It was traced from a hand-carved stamp I received from @JoyfulClover in a different personal swap.
The green fabric was hand-dyed (not by me) and used to house badges we no longer have interest in and donated.
The felt on the back was left over from @GeekyBookworm's cotton gin project.
I used variegated thread for this project.
Thanks for looking!