This delicious soup was warming and hearty, and best of all it was easy to make with things I already keep in my pantry. It is perfect for dipping some no-knead bread, toast, or naan that you squirreled away in you freezer a few weeks ago. It made 6 servings, so we had it for dinner twice, and froze the rest for later this month.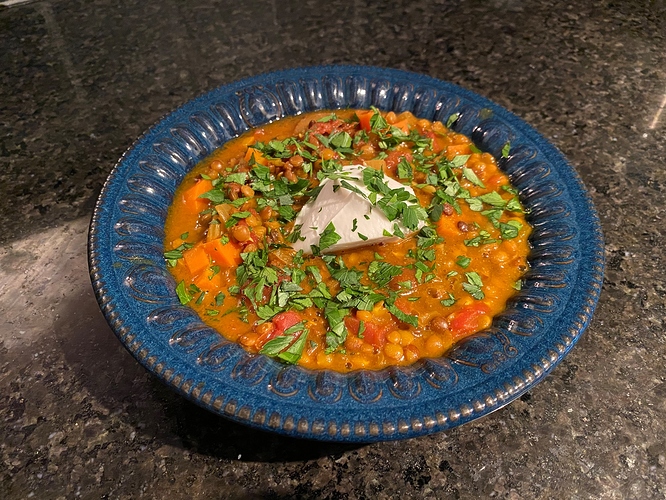 Mediterranean Red Lentil Soup
Ingredients:
1 medium onion, diced
2 carrots, peeled & diced
3-4 cloves garlic, minced
1 Tablespoon cumin
1 teaspoon coriander
1 Tablespoon yellow curry powder
1 teaspoon turmeric
1 1/2 cups dried red lentils
4 cups (1 tetrapak) vegetable broth
1 (14 oz) can diced tomatoes
1 Tablespoon harissa paste
2-3 Tablespoons lemon juice (fresh or bottled)
Sour cream or plain yogurt for serving
Chopped fresh parsley, cilantro, chives, or celery leaves for serving
Directions:
Drizzle some olive oil in a large saucepan or soup pot, over medium heat. Add the onion and cook, stirring occasionally, until soft and translucent, about 4-5 minutes.
Add the garlic, cumin, coriander, curry powder, and turmeric, and saute another minute until the garlic becomes fragrant. Don't let the garlic burn!
Stir in the carrots, dried lentils, vegetable broth, and tomatoes (with their juice), and 1 cup of water. Bring to a boil, then reduce the heat to a simmer. Simmer uncovered until the lentils are soft, about 20-25 minutes.
If the soup thickens too much, you can add a little more water while it simmers.
Remove from the heat, and add in the harissa paste, and lemon juice, stirring well to incorporate them.
Serve with a dollop of sour cream, vegan sour cream, or plain yogurt on top, and sprinkle with fresh herbs.