So, you think you know @TheMistressT? Think again! I got the inside scoop on everything from paper crafts to Bigfoot. I hope you enjoy this exclusive interview!

























Tell me about living in Montana. How did you end up living in the mountains?
Well, TheMisterT had a job change which allowed him the opportunity to get out of the city which had no longer suited him; he wanted to get back to mountains – a place he'd spent part of his growing up years. I was game for the adventure! We did some research and felt like Montana was the right state among the Rocky Mountain states, then we did more research, a little road trip to visit a few spots, and decided near-Missoula would be our target. Here we are! I love our spot and our house works well for us for the most part – you can change a house, but you can't just make a forest full of 100+ -year old trees! I love winter, even with the challenges and extra work. This is our 4th mild winter in a row and I am struggling to accept this might be the new normal.
You are no stranger to power tools, even recently acquiring a new table saw. Where did you get your confidence in this area and where can I find mine?
Hmmm, I'm not entirely sure. I did grow up with my dad using power tools with alacrity and not treating me like I could not, even though I really did not. I took one shop class in junior high school, but that didn't really give me the bug even though it didn't scare me off, either. In my mid 20s, I worked at a retail lumber yard where we sometimes had to cut material for customers. So I was trained on their table, panel, and radial arm saws. As a young woman in a male-dominated world with mostly male customers in a post-rural town, I had to at least appear to approach all of this with confidence. While I wasn't especially timid or un-confident, looking back I guess there was a little fake-it-till-you-make-it in there! From there I got interested in building things with the materials we sold: wood, copper pipe, composite materials. I lived in an apartment on a rural property where the owner had a wood shop he let me use – it's his gorgeous table saw that I was given. In my late 20s my dad helped me and my husband-at-the-time build a house – a lot with our own 6 hands. My dad had been a custom home builder, my ex and I were young and energetic! I was able to put into practice knowledge I had gained about electrical & plumbing, framing, roofing, windows, etc. in order to help customers, with guidance from my dad and some other skilled tradespeople, when doing work on the house. I think these kinds of skills, like a lot of crafting skills, can pretty easily build on each other once you get a solid foundation. I ended up learning how to tile, install laminate counters, laminate floors, plumbing and lighting fixtures. Later I became a decorative painting contractor which added other skills. These experiences gave me the confidence to tackle home improvement projects in the 3 owned homes I've lived in since and also the knowledge to know what I didn't want/shouldn't do.
My suggestion for someone who wanted to get comfortable with power tools: just start. Start small with skill-building projects that get you comfortable with the materials, tools, etc. Maybe things you don't really want to make – but that teach you how to be safe and accurate.
Your paper crafts on LC are legendary, but you haven't always been known for this type of craft. How did you get interested in this medium?
I have always been intrigued and impressed with papercrafts, but never felt ready to follow my own advice of starting small to get a good base of knowledge. I wanted to make the elaborate things! This started before the time when we could look up how to do anything on the internet while sitting on our sofas. Then a friend of mine got a Cricut and was making some really cool things. I starting looking into it and when I learned I could cut vinyl, I decided to buy a Cricut Explore when I found a good sale on a bundle. I assumed that because I was comfortable with some different applications on my computer, that it would be easy to figure out. I got it all out and it was… not. So I put it away to figure out later and later was a year. That friend came out for a visit, brought her machine and we spent a long weekend working on projects. She got me started with some easier ones that taught me the basics of Design Space and then I was on a roll!
I think it would be fun to learn to design the svg files for 3D paper projects, but I am trying to focus on improving and deepening my skills in a only a few different mediums lately rather than broadening the number of crafts I do, if that makes sense. It was sometime around her visit that I realized that the type of vinyl the Cricut cuts is not the kind I was thinking! I was thinking I could cut upholstery vinyl! Maybe the Maker can do that or maybe other home crafter digital cutting machines will get there soon, but… yeah. My intention with that material is not something I'm interested in pursuing at this point, but who knows what the future holds?
Truly a queen of all trades, how did you learn how to sew and who were your major inspirations in this area?
I learned to sew from my mom when I was pretty young; probably second or third grade. I definitely started with hand sewing and it was making "clothes" for Barbie dolls. Simple tube "dresses" with elastic at the bust from scraps in her stash – purple velvet is what I remember most. I was probably using a real sewing machine by 5th grade and was sewing some clothes for myself by junior high. It was the 80s and I lived in a town somewhere on its way from being a rural farm community to becoming a suburb and tech center, so fit was not a thing teenagers even considered other than too big or too small and too big was The Look in the mid-late 80s! I never got skilled at fitting garments, so I stick mostly to sleepwear and lounge wear.
As for influences… the driving force to learning was to have more things than I could buy or would be bought for me: doll clothes or clothes for myself. As a young adult, I learned to sew things like duvet covers, seat cushions, window shades for the same reason. Now when I could afford to buy a good quality duvet set and I can find one I like, I just can't bring myself to spend several hundreds of dollars on one that suits my style and colorway! I can make that! Of course, home sewing is not a money saver by default. Quality fabrics are expensive and mass produced things made in countries where labor is super cheap are often way less expensive, especially if you but a monetary value on your time. But I can get something that I like more and often is of better quality materials and construction. Not to mention having better control over waste, etc.
A similar motivation, to get something more appropriate/custom or better quality for the cost, has motivated a lot of my crafting in various mediums. Or maybe "justified" is a better word! I have a really, really difficult time making something just because I want to make it. I usually need a "practical" reason of some sort, even if that reason is to give it away or to earn money. I also have a difficult time giving a gift to a loved one that isn't especially for them – which means I have found my way into dabbling in lots of things, some of which I delve further into as a matter of course.
This is probably how I ended up qualifying for the Crafty Chameleon Badge! I just squeaked by on the Art and the Food & Drink boards, though! (see comment about needing a practical reason - hehe).
I'm sure fans are dying to hear more about Delia. Tell us about this awesome pup that tolerates crafty costumes and the like.
We adopted Delia from a shelter when she was a puppy – just over 11 years ago! She is super sweet with all people, but I would not want to be the other 4 legged creatures who might find their way into the "yard." Although a few years ago she played "tag" with a deer on the other side of the fence. She would "chase" it and then it would "chase" her up and down the fence line!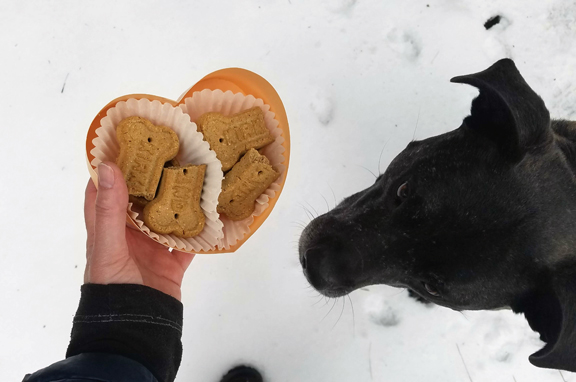 Delia had to be eased into wearing outfits, her dearly departed sister, Betty, on the other hand LOVED to wear costumes – or at least LOVED the attention that came with it and never hesitated to be dressed up. With Delia it was a matter of her realizing that wearing a "coat" outside when it was cold was associated with fetching and maybe she even realized it meant she could stay outside longer. Getting her to wear a costume without putting on her ASPCA commercial act has really been a matter of her believing she's just wearing a jacket, collar, or harness. As she's easing into her senior years her fur is thinning a bit, so I think she's actually understanding the extra warmth that comes with clothes.
What's this rumor about TheMisterT being an author??
Indeed! TheMisterT has had two novels published! "Dr Potter's Medicine Show" (2017) and "The Trials of Solomon Parker" (2018). They are both speculative historical fiction, pretty dark and a little supernatural. I did a lot of crafting for Dr. Potter and a fair amount for Solomon Parker that was posted on Craftster back in the day! In 2019 (I think), he had an audio book come out with Audible Originals called "In Memory of the Girl in Green"! He is still writing and his agent has a few things out at various publishing imprints with the hopes that they will sell. He's come close with a few – despite all the uptick in reading over the pandemic, it is a really weird and difficult time to be on this side of the publishing industry. I am lucky that I get to beta read those manuscripts that get far enough along in the process that he's planning to send them to his agent. The stories I've read! I'm also lucky – well we both are – for the enthusiasm people on both these forums his books (and my crafts) have received! And that someone else has crafted from his books? It's just so dang cool!
How's the ukulele learning going?
Uhhhhhhh… well. It's not. And I want it to, but there are some hurdles. Mostly it's that TheMisterT is working from home 100% and otherwise is an XXXtreme homebody AND also used to be a musician. He even went to a fancy music college in Boston. Soooooo, him witnessing my attempts, by which I mean trying to pretend he's not paying attention, but actually hovering and making "subtle" faces, makes me nervous. I just need to set aside time on a regular basis in a room where he is not.
Be straight with us, have you really seen Bigfoot?
Bigfoot is behind my left shoulder as I type this! I've seen and photographed him in 10 US states (if you include two that were only in airports) and 10 countries outside of the US. Of course, I'm talking about a Bigfoot action figure that I got about 15 years ago to take on the first trip TheMisterT and I went on together - Czech Republic. He's gone on every trip with me since, including little day trips and road trips. He's gone to local events/activities (roller derby, restaurant opening, hikes, etc.) and he's been to most of TheMisterT's book events, too. So now whenever I get a new handbag I have to make sure I can fit my wallet, phone, glasses case, zip pouch, and Bigfoot into it. I can't say that I'm a believer in there really being Sasquatch out there, but I hope there is or at least that there once was -even if there was a Sasquatch in the same way that there were mermaids in the form of manatees. I've been lucky to get shots of my Bigfoot with representations of some of the other Greats including Smokey Bear, Harvey the giant rabbit-wearing-cloths statue in my hometown, Barbie, various statues of historical figures. We hope to visit Scotland in the next couple years so hopefully I can get a shot of him with Nessie!
What is your favorite project you've posted to Lettuce Craft?
I am terrible at favorites! I don't have a favorite movie, book, place, song, class, trip, etc. Partly because I don't believe you can just change your mind all the time about a favorite! So disloyal! I will say that lately I am more inclined to making longer-term projects with lots of details and a variety of mediums, methods, and tools. And I am more inclined to love those when they're done and revisit the photos I have of them. That said, my favorite number is 11.
What is your favorite project posted by someone else to Lettuce Craft?
See above for my status on favorites! I will say that I appreciate so much about what so many makers here do. I get inspired by their methods, their expertise, the way they can see something so different in an existing thing and then turn it into that new thing. I am even inspired by people making crafts I know I will never do; how they improve over time and take something like a long strand of fiber and turn it into a beautiful and useful object! Or turn mending a hole into a small piece of art. Even if I'm not going to do those exact things it helps me look at materials differently and reconsider what I might actually be able to make with my two hands. It's also a joy to witness the camaraderie and support members give each other, even when it's from slightly outside like the swaps and craftalongs that I am not participating in.
























Thank you so much for giving us a peek behind the curtain of your awesomeness @TheMistressT!! We look forward to seeing more from you!