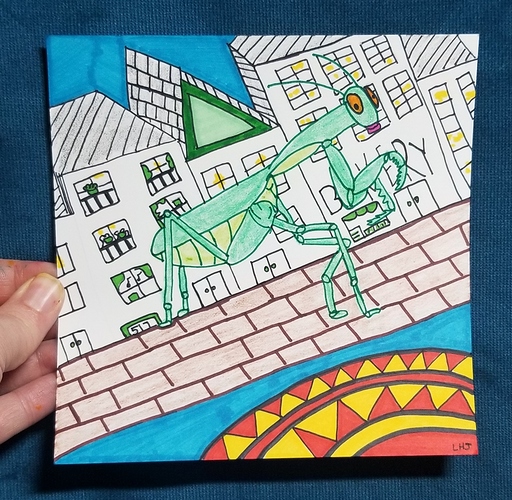 I participated in @Edel's Corona Virus Challenge Chain by claiming @craftADDchick's prompt: insect.
My first try was really bad (posted in the challenge-along), and looked more like anything other than what I was going for. So, I decided to skip trying paint, and go back to marker and crayon. I had felt pretty confident with these supplies making atcs last weekend.
I decided to draw a praying mantis. I also decided to put her in a setting that doesn't make sense. Maybe that will help me remember the word "juxtaposition."
I decided to draw a city which gave me the opportunity to learn and practice perspective this way.
I drew Mrs.Mantis first, then drew the city around her. The brick road and the sun piece were done last.
Drawn on a 6x6 piece of paper using Bic Markers and crayon.
Thanks for looking.