I recieved from @storerboughtcreation today. This is the cutest wee pillow I've ever seen. She did a great job stalking … researching my pinterest, and great questions, just to make sure.

The stitches are so tiny, and amazing. I'm in awe! Thank you Jamie, what a great way to kick off the gallery!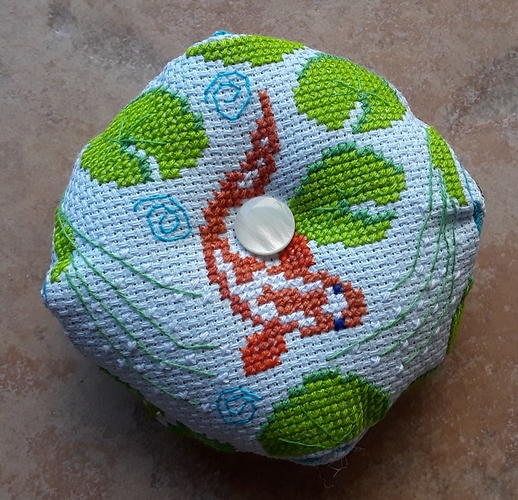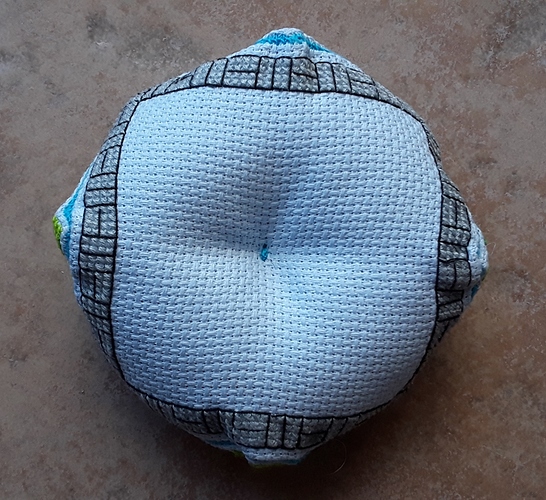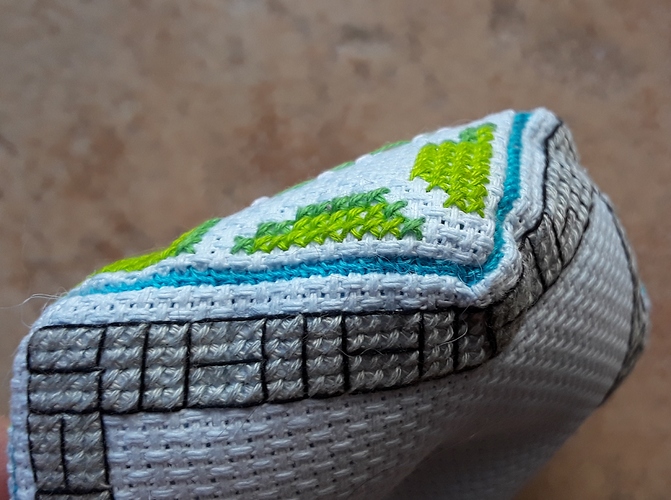 I'm so glad you like it! It's called a biscornu. It's an ornament that can be displayed year round as it's not season specific, which you said you like

The top piece with the koi I had a pattern to follow. The bottom piece took me a while to figure out what to decorate it with, and I finally decided on a retaining wall for the koi pond. I had to chart it out as I couldn't find a pattern for what I was looking for, and I feel like it came together perfectly

Oh wow, how beautiful

That's wonderful

great job, so adorable
It is a beautiful tiny thing to receive! Your careful planning shows how much you love making these…anyone who gets one of your creations is indeed fortunate to see it in person…great start to this gallery!
Wow, wow, wow, such an incredible OTT! Beautiful stitching, and the addition of the retaining wall for the bottom was a great idea. Love!
Really fantastic OTT! I can personally attest to the quality of SBC's biscornu, and this one is so gorgeous!!
This is a really precious piece. So cute.
So perfect. I love the koi theme. A year round koi pond!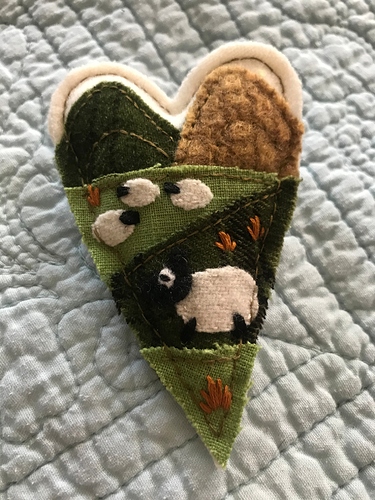 I received this absolutely gorgeous felt brooch from roler! How sweet are these little sheep? It looks like a scene straight out of Ireland. Thank you so much roler!
I love this so much! @roler used the perfect fabrics. Each own has its own unique shade and texture. The fabrics, stitching, and layering give this brooch so much dimension and REALLY makes it look like those sheep are roaming the hills.

Beautiful brooch. Reminds me of a little song I know.
O bless the sheep may they increase
May they have the finest fleece
May they graze all day in peace
O bless the sheep may they increase
The tune is an old hymn, but I don't remember which one.
Hooray, I'm so glad you like it!

I based it off a pin I found on your Pinterest, so I figured it couldn't be too far wrong!

I'd never made anything like this before, even though I'd often admired wool folk art, so it was really fun to get a nudge to do this!

Lambies and sheep! A perfect brooch for the bursting Spring days. Love it!
Look at how sweet those wee sheep are!
Great job! That is adorable, especially on a first attempt!