Now that I'm home for 3 weeks due to school being closed, I've come to the realization that I am drinking less water at home than I do at school. And, I don't drink much at school, either. So, when I developed a headache the other day, I realized I had only had a cup of tea at breakfast, and nothing else. Since I don't love the taste of my tap water, I decided to finally make some fruit infused water. But… bits of fruit pulp in my water just isn't something that appeals to me. So, I found a instructions for making fruit infused water in the Instant Pot.
Here's the basics:
Put fruit combo in the IP. You can put it
Add water to cover.
Process under high pressure for 5 minutes.
Strain using a fine sieve and cool.
I had some very icy bags of frozen fruit that needed to be used up, and this was the perfect use for them.
For the first batch, I used about 2 cups of cranberries (pictured on the right) and about a half cup of pineapple chunks (it was hard to measure because the chunks were really iced over). For the second batch (pictured on the left), I used about 2 cups of blueberries and about a half cup of mango chunks (also very iced over).
I used about 6 cups of water, and ended up with almost 2 quarts of each batch.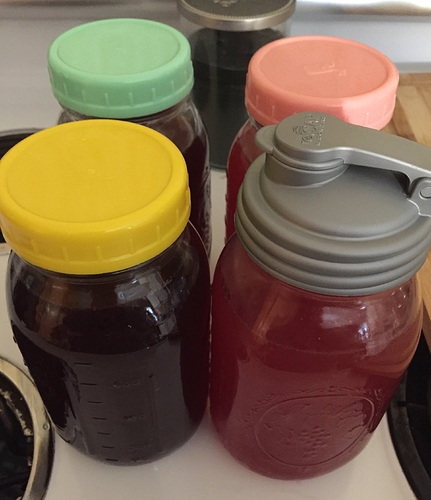 Once I get my hands on some cucumber and mint, I'm trying that, and also some lemons and lavender.
I've already had more water to drink today than any other day this week!