UPDATE!!! Thank you all for your feedback with this tutorial, I've been able to tweak the pattern quite a bit and have come up with something even better. Instead of making this version, please go here for the refined pattern and tutorial. It is very quick and easy to make and I think it fits the best out of all the patterns I've tried so far.
---
I made a mask for a neighbour using the HK pattern which is fine but I felt like it could be made more simple so I tweaked it a bit. This pattern takes only 2 pieces of fabric and requires just one line of external stitching to finish, 5 lines of stitching in total. I used white thread so it's visible but feel free to match the colour to your fabric, lol.
Starting with the print out in whichever size you want to use, trace both the outer piece and the inner lining piece. I taped them to my cutting mat curved sides facing out with a 1.5" space between them, then I traced this new pattern onto a fresh piece of tracing paper.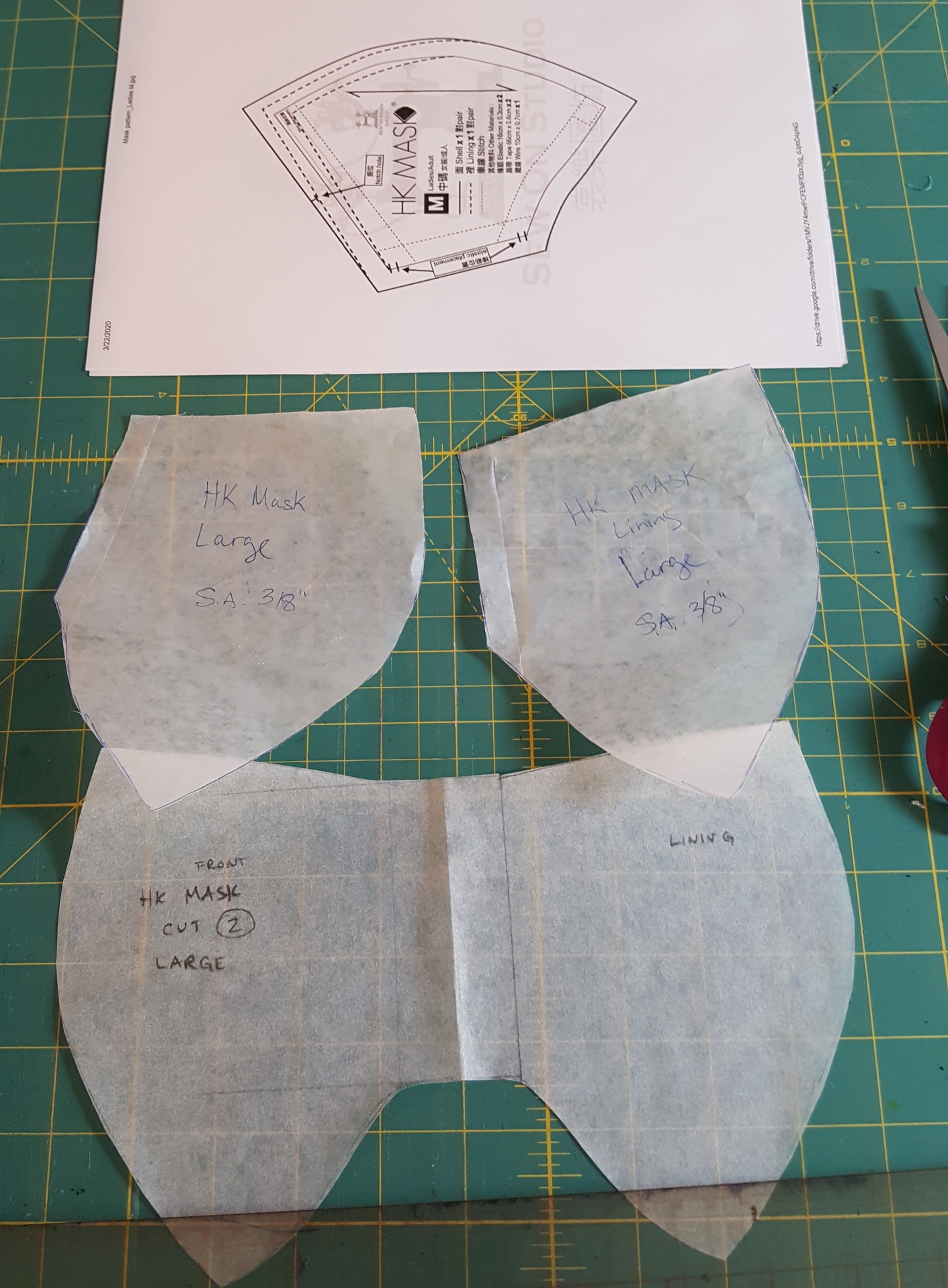 Fold fabric wrong sides together, cut out 2, stitch along the curved edges with a 3/8" seam allowance. (I'm not actually using denim, it's a thinner denim-look twill).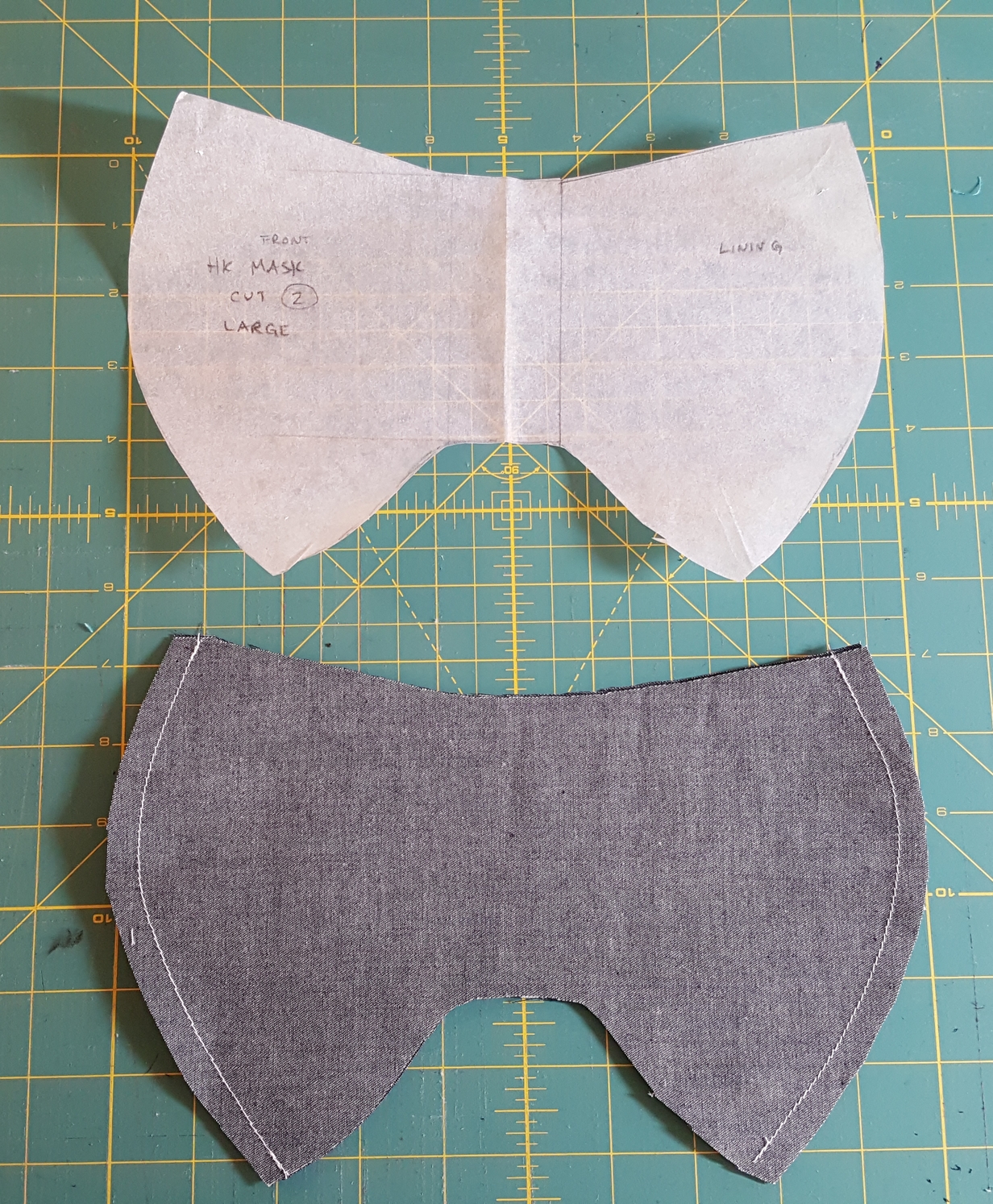 Now I ironed the seam allowances to opposite sides and followed @TheMistressT's great idea to use pinking shears to trim them along the curved edge (or you can clip the curve, whichever you prefer). Fold the mask front pieces against back pieces and line up edges as shown.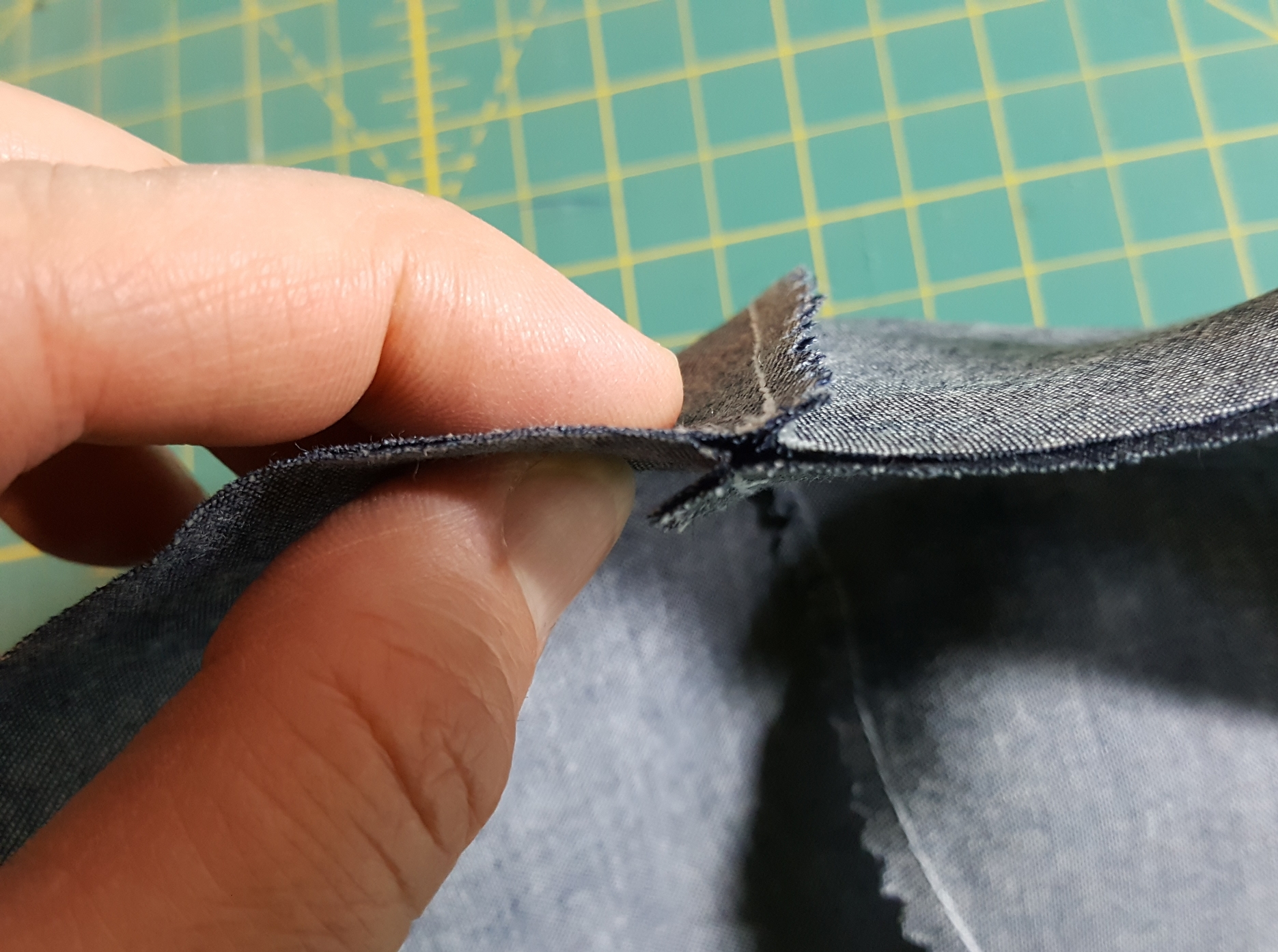 Stitch from 1" in from the edge to the same distance on the other side, repeat top and bottom leaving a 2" gap for turning.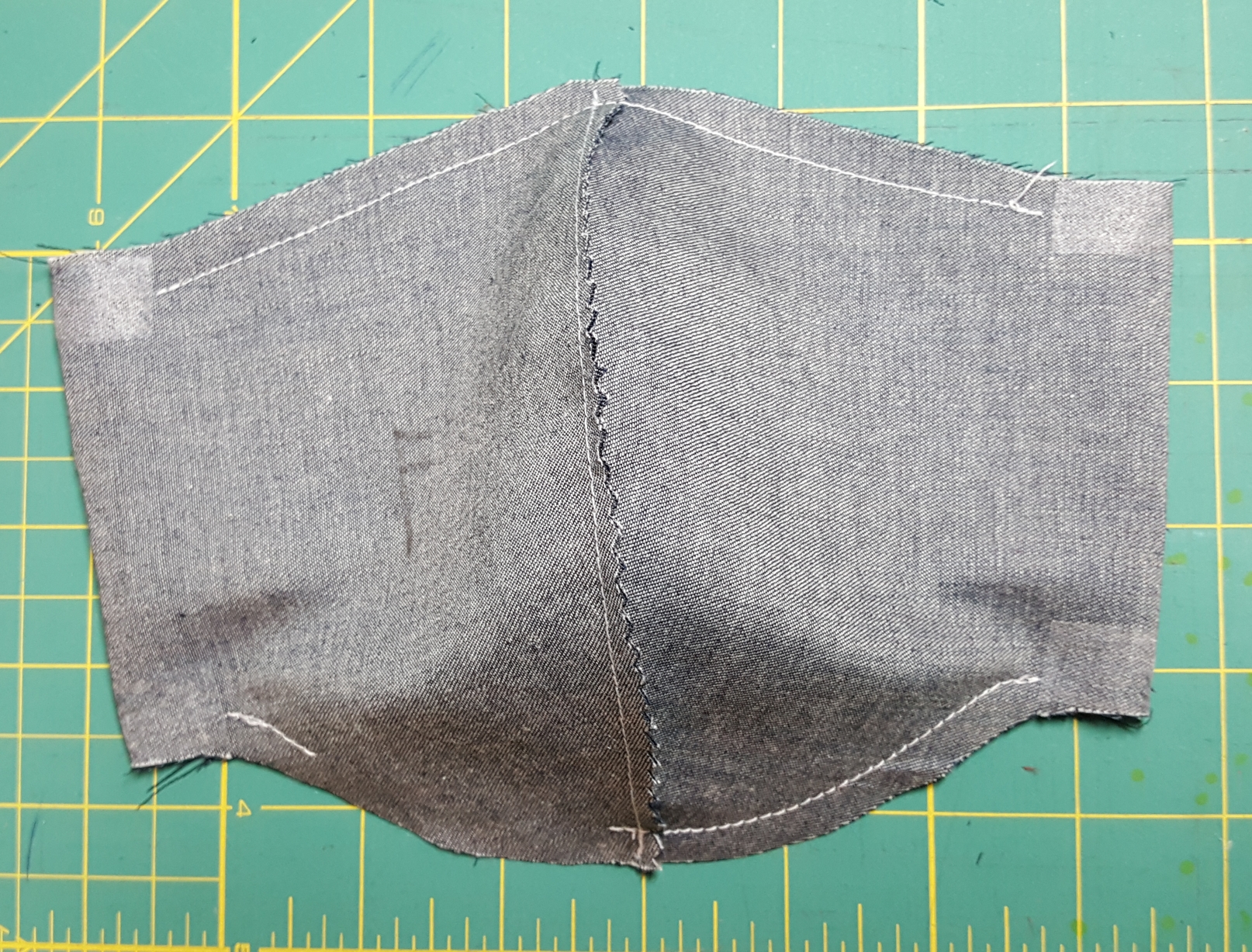 Again, I trimmed the curved seam allowances with pinking shears but you may clip the curves instead if you wish. If using pinking shears, only trim to within 1/4" of the stitched line. Clip the curve at that point, fold the seam allowance over as shown and press flat (I used a tiny piece of fusible material to keep the seam allowance in place but found it isn't necessary. You can choose this option or a dot of fabric glue if you want to)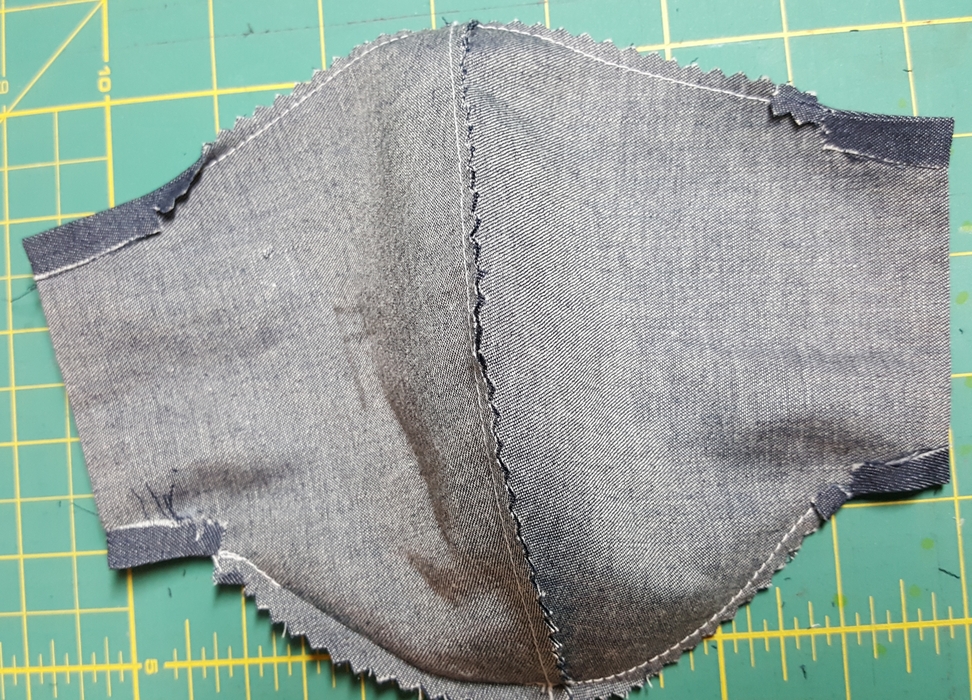 Turn right side out through the gap in the stitching and press all the edges flat taking care with the seam allowance along the gap and the corners, if they poke out use a skewer to push them back inside and press them well.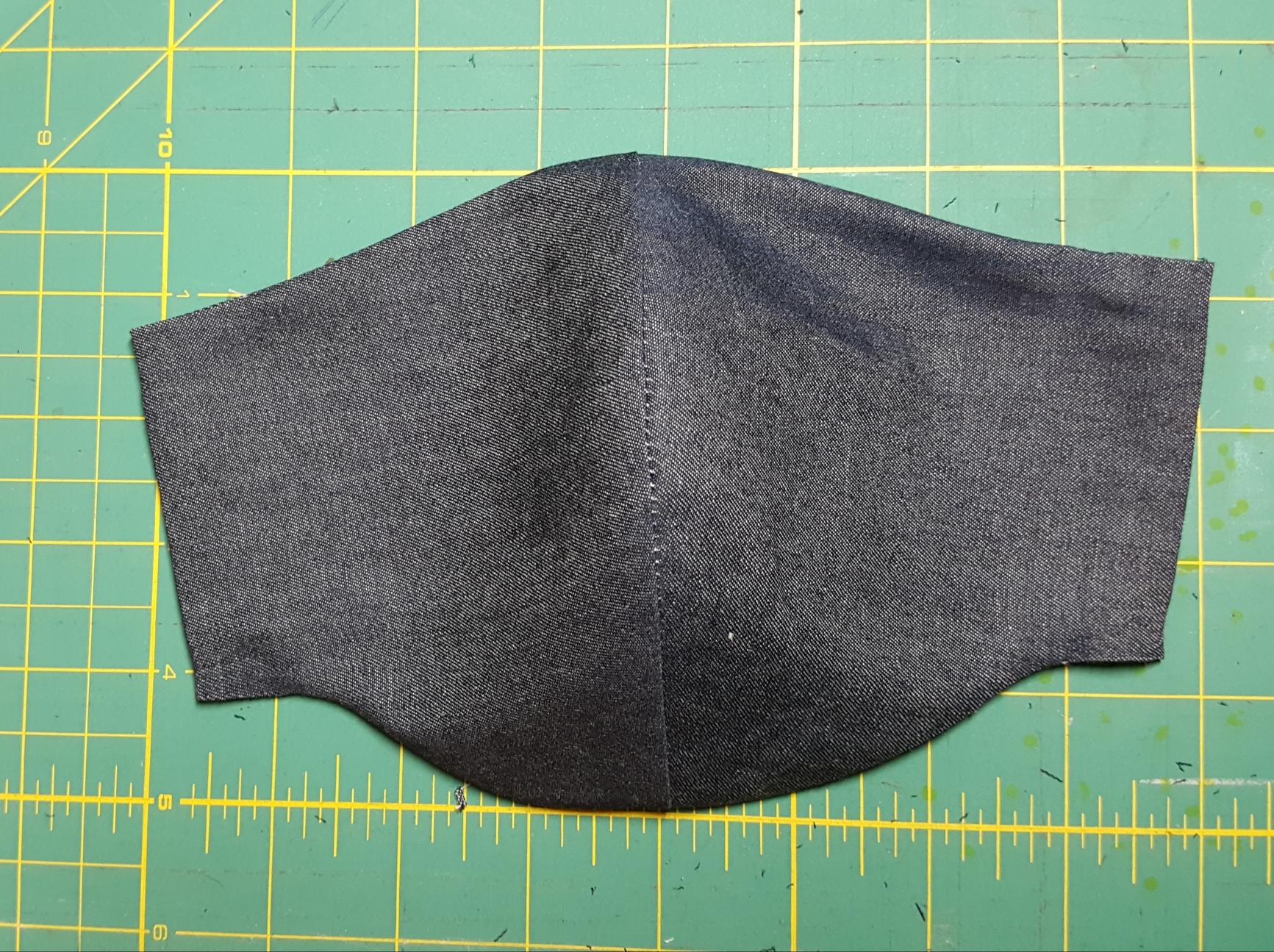 If you want to insert a nose wire, this is the time. I have it pinned into place at the very top of the mask. If you are using a piece of wire you cut yourself, curl the ends around with pliers to keep them from being sharp enough to poke through the fabric.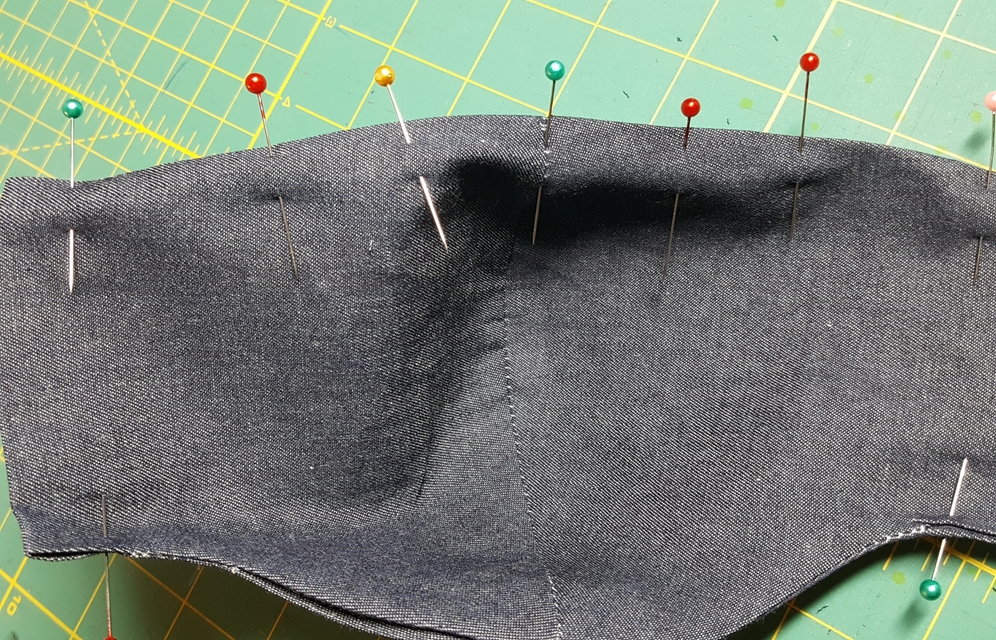 Sew from 1/2" from the corner as shown, it's not necessary to make a separate sewing line for the wire, simple sew around it like I have here. As long as you are edge stitching close enough to the actual edge of the mask, which should be easy with so few layers to get through, the wire should be quite secure. (the corner seam allowances are now stitched very securely in place and should not poke out, just take care when threading the cord through at the end)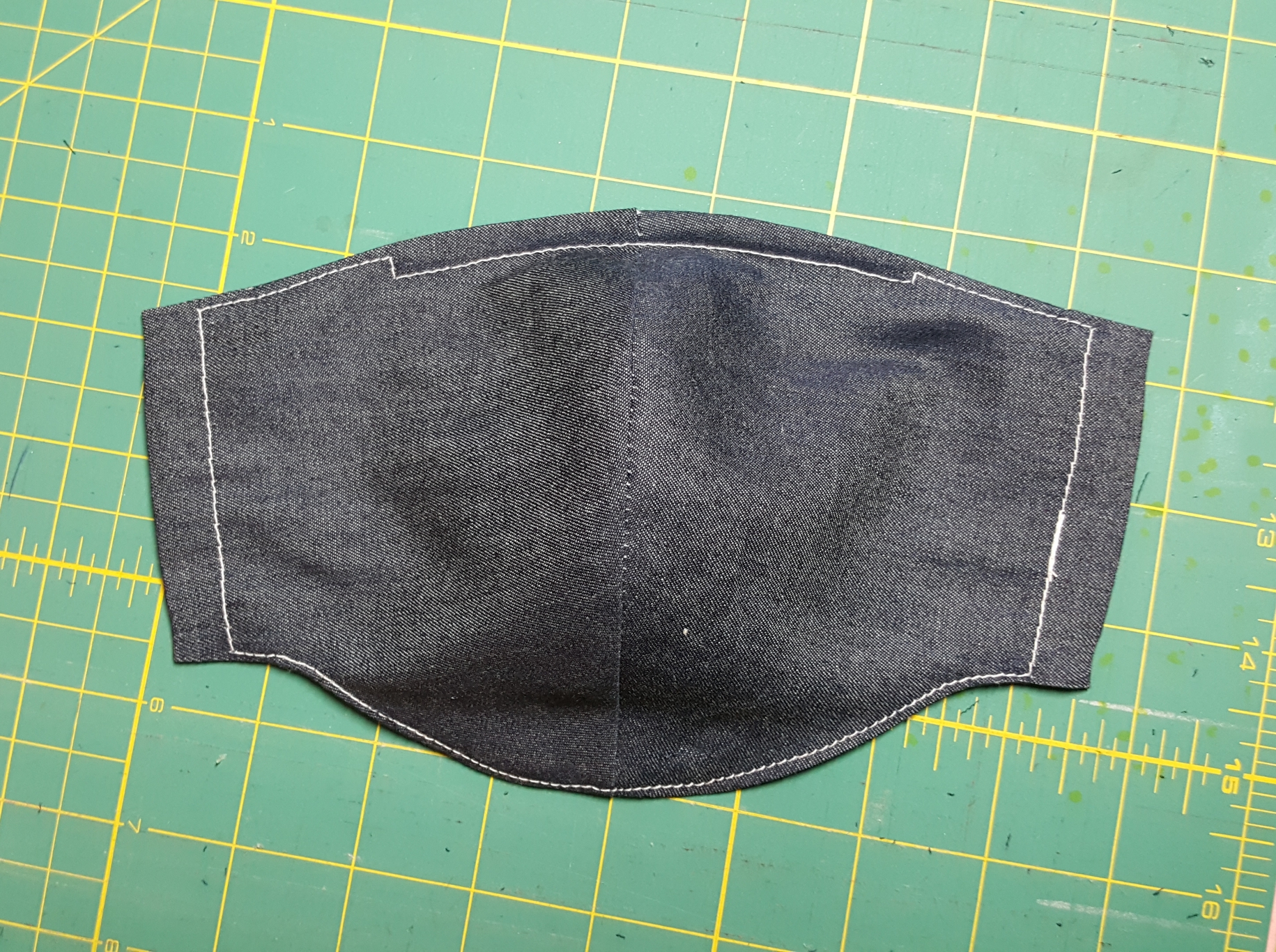 Now you can use a loop of elastic on each side for behind the ear ties or you can insert a piece of ribbon or bias as shown. I cut a piece of tshirt yarn. I like this option because it can be tied securely and keep the mask tight to the face without being too constricting. The edges can be easily gathered to fit any shape face because they are on a fold of a single piece of fabric rather than multiple layers of fabric and bias binding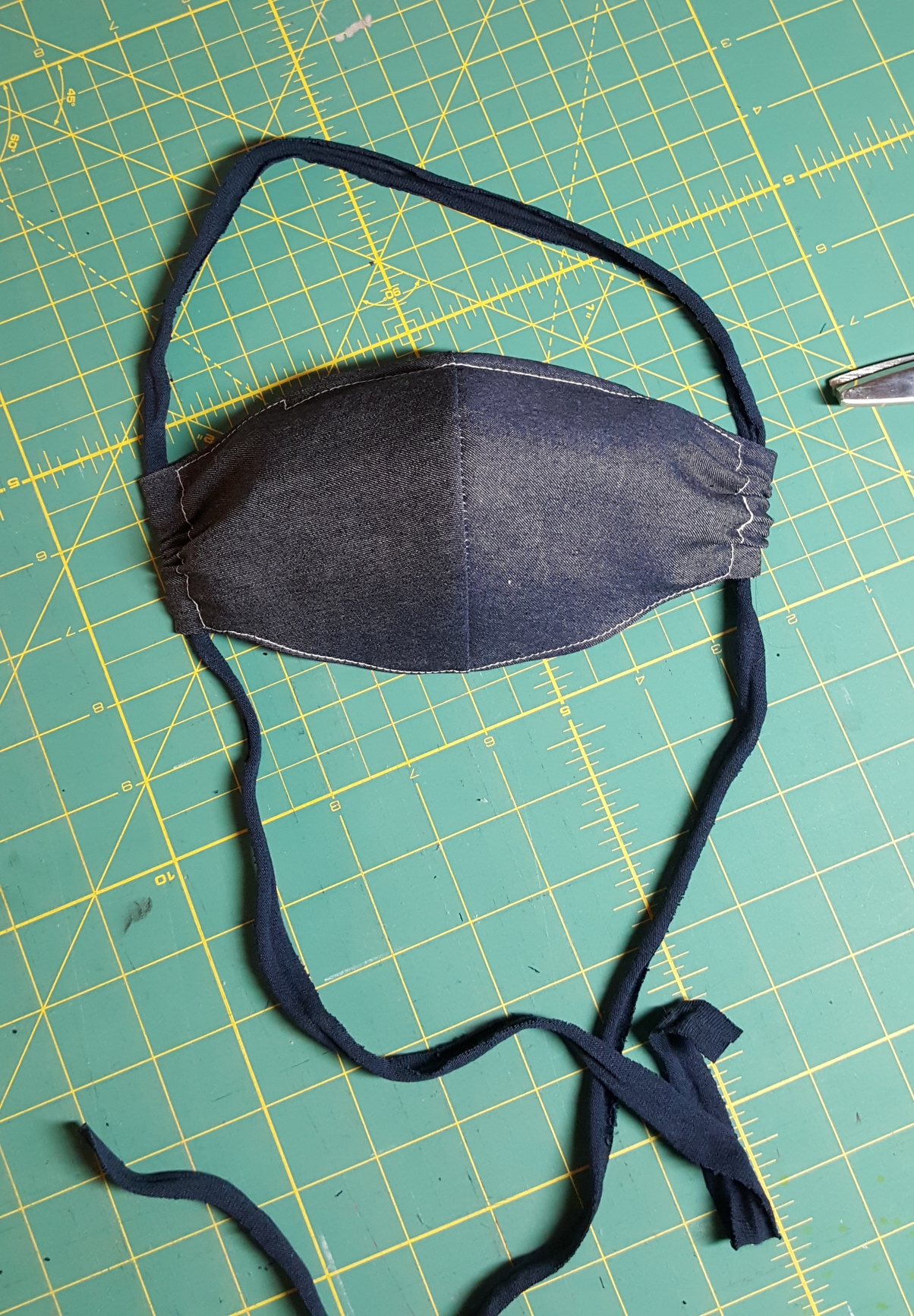 The man said it fit well and was comfortable and also secure.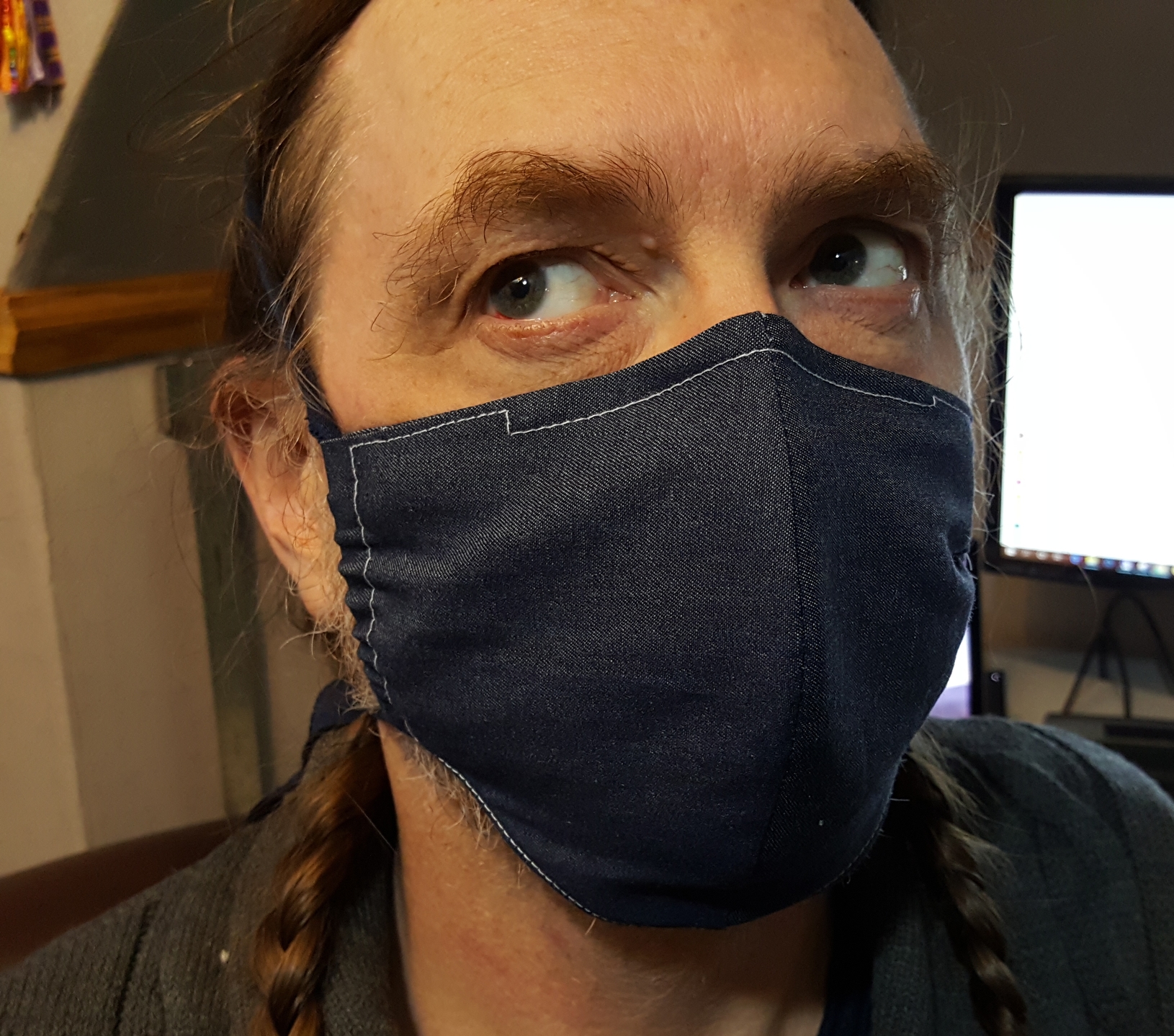 I did not include the option for a removable filter for this mask because it's curved and paper towels etc are not so they just don't fit very well at all. If another layer is desired, iron some fusible interfacing onto the front pieces, ending where the original pattern piece did (before the 1.5" that was added). That adds another layer of protection that will keep the same shape as the mask and doesn't need to be fiddled with. Most of us are wearing these things out for grocery shopping though so another layer is not really needed. This is just about reminding us to keep hands off faces and to keep any moisture in our own areas.
ETA this article with info from the CDC regarding filter stats basically says 2 layers of fabric are 74% effective (roughly the equivalent of a surgical mask). Even better if you add a layer of tshirt fabric to 2 layers of tightly woven cotton.