I'm not 100% sure what this should be listed under but I think collage is right, let me know if I should move it.
I made this a few years ago and it is still one of my favorite collage type projects. I'm normally horrible at papercrafts.
I photocopied my movie monsters Movie Monster ATCs onto cardstock and then cut them out. I had two chalkboard hearts from the $1 bin at Michaels and covered them with scrapbook paper. I added the Bride and Frank and applied some 3-D Halloween stickers (the spider, web, and bat) and glued on some metal roses. I love metal roses. They are my paper crafting weakness.

I finished it up with some weird fuzzy ribbon and wha-la!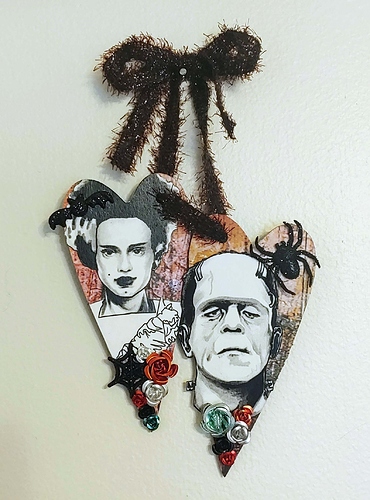 Join in the fun! April is 2020 Monster Jam - April Craftalong