This is my second Temari ball ( and the first that I have made totally "from scratch.")
I took a few progress shots before I got so engrossed in crafting that I forgot.
First, this is the material I used for the core: dryer lint and used dryer sheets.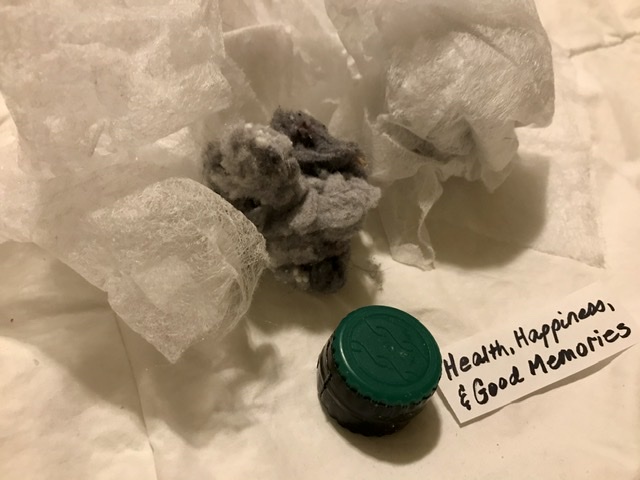 In the picture, you can also see the little capsule I made from two plastic bottles caps. There is a jingle bell inside. Also a little message for my MIL ( this was intended to be a gift for her.)
I used some old, faded, sport weight yarn as the first wrapping material. The color is inconsistent, so it's not really useful for other crafts.
Tried to compress the core material and wrapped it until it was a fairly nice sphere shape.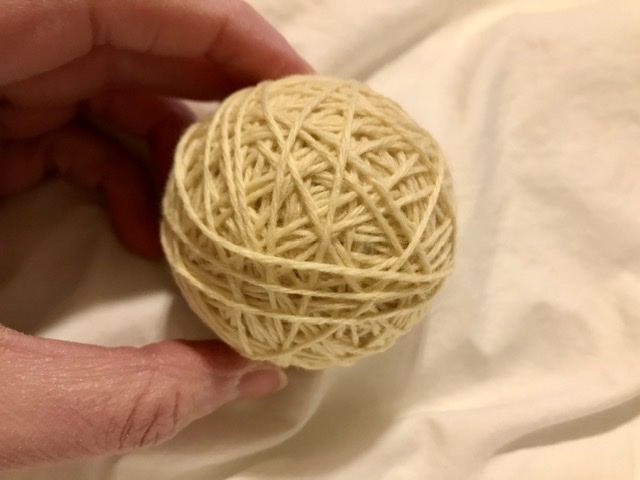 Then wrapped it with progressively finer thread. First, size 10 crochet thread and then size 30.
The final wrapping was sewing thread. I have a bunch of old thread that I got at an estate sale. It's very old, and I worry it may be weaker than newer thread, so I don't use it often. I was able to completely finish off a partial spool!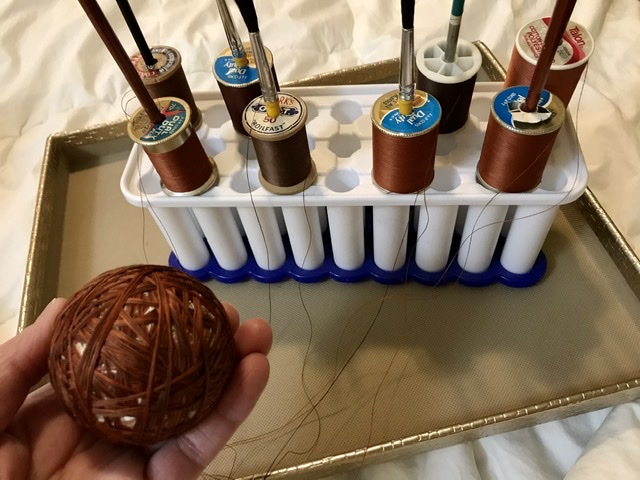 I started off "power wrapping" with eight spools of thread. Then cut off 4 and continued. Then cut off 2. Then cut off the last extra spool and continued with only one.
Next step, measuring and marking. You use a strip of paper (visible in the picture below) to measure off halves and quarters.
Then I used the marking pins as landmarks to place the guide lines. Once they are all placed and then tacked with a tiny stitch at each intersection, you can remove the pins. (I keep the North and South Pole pins in place.)
… and then I embroidered it, totally losing track of the fact I was planning to take more photos. Oh, well! @marionberries' photo of her temari balls inspired me to try a design with mainly obi stitches (the ones that look like bands.)
Below is a picture of the finished second Temari ball, along with the first. (And from this angle, you can see how wonky the first one was! The squares don't line up at all.)