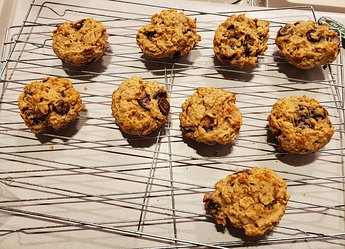 Look, I'm not going to try to bill these cookies as good for you, but they are quite tasty despite some ingredient swaps to lighten them a bit.
Ingredients
3/4 c flour
1/2 t salt
1/2 t baking soda
1 egg
1 c oats
1/4 c butter or margarine
1/4 c unsweetened applesauce
1/4 c brown sugar
1/4 t hot water
1/2 t vanilla extract
3/4 c chocolate chips
Preheat the oven to 375 F. Sift flour with salt and soda; set aside.

With a mixer, cream butter/margarine, applesauce, sugar, and egg until light and fluffy. Relatively speaking; my batter usually looks curdled at this stage – I think because I forget to bring the cold ingredients to room temp – and works fine. The photo below is where I ended this step with last night's batch.


At a low speed, add the flour mixture, oats, hot water, and vanilla. Beat until just mixed. I did this in a few steps versus dumping it all in at once, although the original recipe I adapted this from didn't actually specify that.

Drop by teaspoonfuls onto a parchment lined cookie sheet. Note that in my experience these don't really spread much while baking, so you may want to flatten them a bit if you don't want a rounded cookie. I used a small scooper to portion out the batter and then pressed lightly w/the back of a spoon.

Bake 8-10 minutes. I let them cool on the sheet for a couple of minutes and then transfer to a rack.
I can't really tell you the yield on this recipe because I typically freeze some of the dough in an attempt at portion control. I baked off 11 last night and froze probably half the dough, so maybe 2 dozen? It depends on how big you make the cookies, I guess.
Thanks for looking!