Ooooo… Pretty! I really like the large mixed media piece.
This is my first time making them but I used alcohol ink and paint markers sealed with several coats of varnish. Everything I found online said either varnish or diamond glaze and I went with varnish just because I had it on hand. From pics I saw the diamond glaze just makes them look more glass like.
oh thanks! I just watched a tutorial on making alcohol ink from old markers and I do have diamond glaze as well…I will have to find something simple to paint…oh, one more thing…do you have to do anything to the domino…mine are kinda shiny/glossy. Should I sand them first?
These are projects 15 & 16 if I don't count the note cards or flowers I've been working on separately.
Birthday card for mom (has it's own thread for the other pic)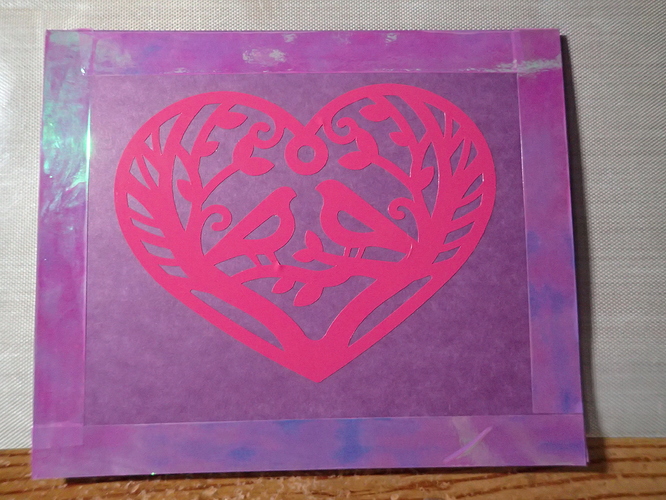 Another painting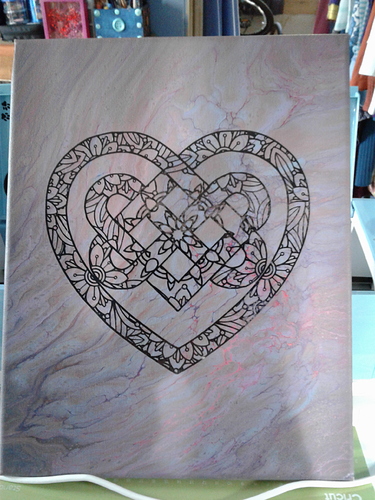 I've made the first block from the Farmer's Wife 1930s quilt book (from scraps). Unfortunately tomorrow term starts again so I'm not sure how many more items I'll be able to finish from now until June. Hopefully I can still finish some smaller items, I'll try to stitch or crochet on the train. I'm in a sewing class and that weekly class is often the only crafting I get to do during term time, and everything takes ages when you only work on your for 2 hours at a time. I usually only finish about 5 items of clothing a year.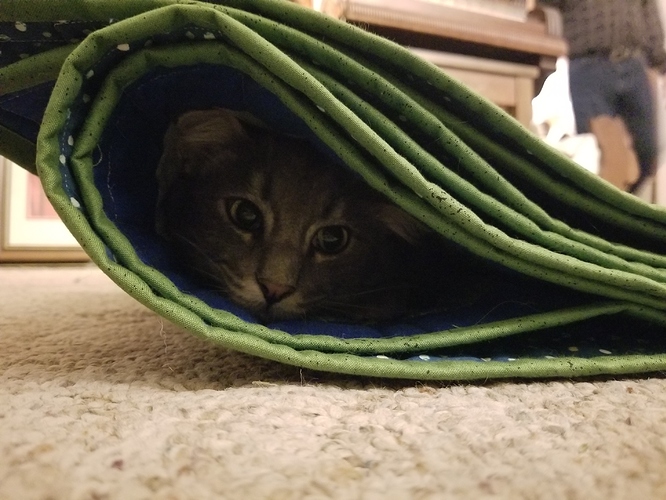 Another finish (my fussy cut sampler quilt) that someone decided was a perfect hiding spot while it was being folded
I totally read that as fussy "cat."

Kitty says thanks for my new tunnel.
You're not the only one who read fussy cat!
Boy, does it get a bit confusing when you are doing several craftalongs simultaneously. I think what I am going to do is mix it up so that I don't post to all of them…maybe a link or something in a few…
That being said, here is another heart I got done today…I posted the first one in the February Thing A Day…Heart #1
Note that the hearts are in a basket…yep…hoping to fill it up by Valentine's Day with all sorts of hearts…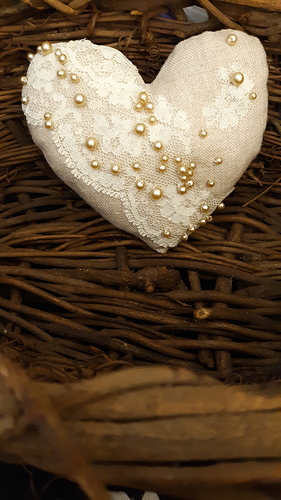 Turned some of Friday's lino prints into proper samples today


These are for the first idea for my exam piece - steampunk stitched vessel/ vase cover. Just playing with ideas and techniques at moment. Finished article could look nothing like this.
First off - a couple printed on helmet interfacing. I just painted into them with watercolours. As these are samples and, unless something goes dreadfully wrong, won't get wet, I can sample with water soluble media

Next, one I stitched into. Typical me - I left the ones on the pelmet interfacing unstitched, and stitched into a paper one! I used fusible interfacing on the back to help strengthen it a bit.

Lastly, another paper print, with cutouts like reverse applique. The 2 backing fabrics are both shiney, but difficult to photograph.

Funny thing is, those few of us that completed the blocks as a local sew together called ourself "fussy cats" because that's what they all thought our instructor was saying

These are neat! I've had some fun using mulberry washi paper scraps with light stitching designs on my embroidery machine.

Finally managed to settle down and get some college work done this evening.
A sample for my 2nd idea for exam project. This time I'm looking at using recycled fabric (scraps/old clothes etc) to upcycle a denim jacket. I had a go at using various scraps and soluble stabilizer to make 'new' fabric that could be used to decorate or mend a jacket (or anything else you fancy).
Love that there's shimmer and shine
Back not too shabby either

How did you like it? I am tempted to buy a kit and try this…any tips?
I enjoyed it! It was easy and relaxing. The only tip I have is if you are doing a larger one with lots of colors is to get some type of containers to store the diamonds in.
Another finish today. This is a 4th grade artist fundraiser tote bag.