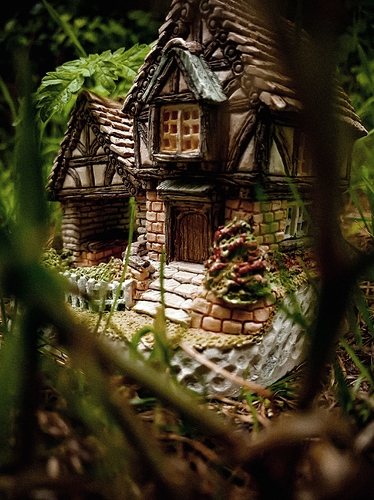 Despite the name, this craftalong is for all things miniature, no matter your scale or if it's a full dolls house, a roombox, or even just a cute tiny thing you made to sit on your desk. All scales are welcome as long as it's miniature, all craft types, all skill levels. Dolls optional.

In our former haunt this craftalong was started in 2011 by @Knickertwist, it's archive can be found here.
We have a challenge to keep us busy during the current outbreak here. Everyone is welcome to participate, no fancy supplies or skills needed.
Notice:
I was going to wait until this list was perfectly and exhaustively done before I posted, but to get things rolling and so we can squee about the tiny things sooner, I'm posting this as is and editing more in-between naps. Hopefully, it will be mostly done within a day or two but there are always new things to add! I'll make it prettier later. Onward!
---
Scale
Though I am of the opinion that scale is only as important as you make it in any given project, it helps to know a bit about it so the resources make a lick of sense. With few exceptions, scale is typically measured in inches, the most common scale is 1:12 which means one inch in real life equals twelve inches in the miniature (or, a foot). Here is a page explaining some of the most common ones.
You absolutely do not have to pick or stick to a common scale. Follow your heart! Or your doll, or your space, or your glasses prescription. Whatever suits you.
If you do feel like working to scale, I find this hobby calculator to be invaliable.
---
Resources
This is a list of resources for tips, tutorials, etc to help make your miniatures and maybe even provide some inspiration. It is by no means exhaustive, the internet is vast and miniature websites tend to hide in tiny nooks so if I have missed one you love, feel free to tell me and I'll add it.
I've left off Pinterest because most of us know to go there, but also many of the image files have degraded from being saved and resaved and aren't very high quality any more unless you can still click through to the source. However, definitely use it for ideas and have a browse. You never know, you might find some that works for you.
This is also primarily about free resources, though there are many excellent paid plans, printables, so on and so forth on places like etsy and your local dollhouse stores if you're lucky enough to have one.
---
Houses
Almost anything can be made into a house or roombox, including literal boxes. If you are going to buy an actual house please do shop around as prices can vary drastically on the same items. I find this is especially true of those puzzle houses and the new kits that have come out of China in the last few years (always check Aliexpress and eBay when pricing those, in my experience, they trend cheaper than Amazon and certainly cheaper than the Etsy resellers but your mileage may vary by location and when you check so always check don't rely on silly old me).
Please remember, too, you don't need to buy anything to come and play. Make it out of boxes if that's what you've got. Many a beautiful dollhouse or miniature scene has been.

Printables
Printables, or more fondly called "printies" are things you can print at home or wherever you have access to a decent (preferably colour) printer. They're great for filling up shops, decorating, wallpapering amongst other uses and are really handy to have.
Tutorials
Tutorials & Useful Things In This Thread