Ongoing ATC swap gallery & discussion here! (the first 88 posts are from swaps via the discord server)
Ooh, I will go first with my most recent atc from the most talented @curiousfae!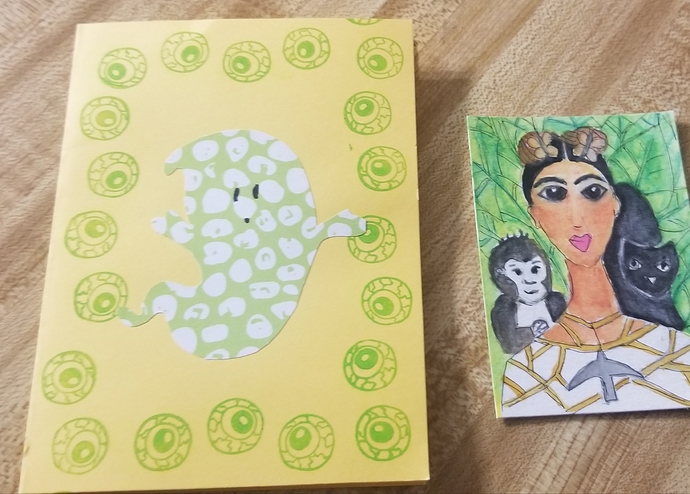 The atc is based on a Frida Kahlo painting with a woman wearing a hummingbird necklace.
The card was made by gala_apples. I can't remember if she joined here with maybe a different name?
Anyway, thank you!
@thanate thanks for hearing my plea for a gallery here…you are fabulous!
Interesting take on "hummingbird" and excellent take on Frida! Love it!
Right?! I never would have thought of that!
Shouldn't the tag on this be craftswaps instead of craftalongs? @thanate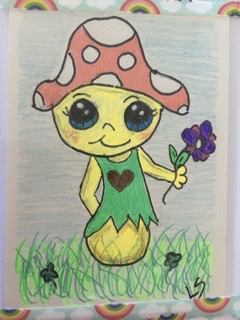 From @LindaP
To remind me of spring!
An adorable hummingbird to add to my hoard @JoyfulClover made with watercolor, acrylic, and pen.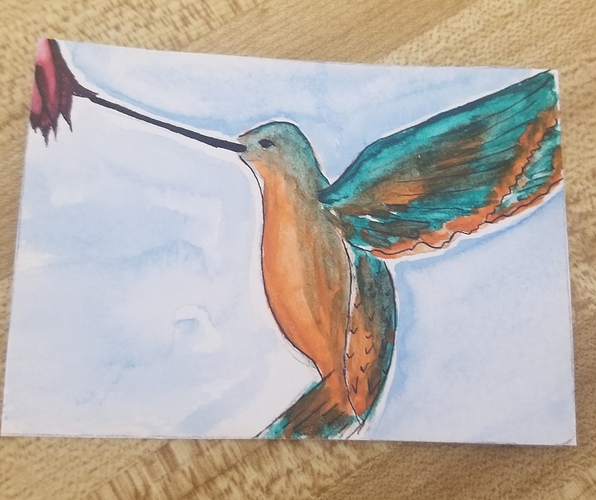 I love it so much! Thank you!
Fixed; sorry about that! (Set it up on my phone & it's too easy to hit the wrong thing…)
So happy this gallery is here! Love the hummingbirds and, of course, the mushrooms!
@curiousfae sent me these 2 fabulous mushrooms, grrl, I love them both so much!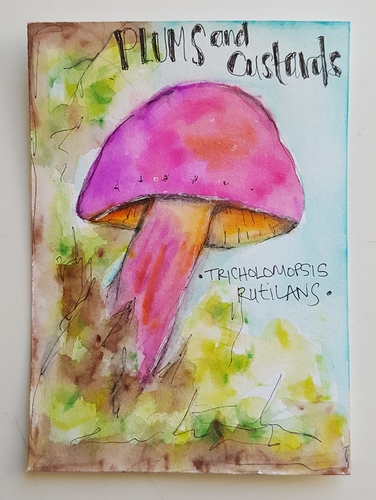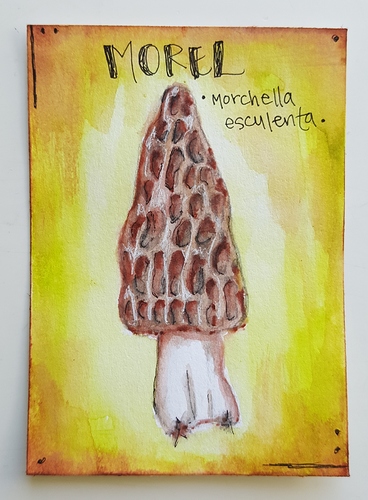 @LindaP's granddaughter sent this beautiful, sweet little frog to @Pigeon. She brought it to me when I got home from work and she was so dang happy with it. Linda, I'm not kidding you, she said "Mom, she is SO GOOD! Look at this awesome frog. How old is she?" She loves it.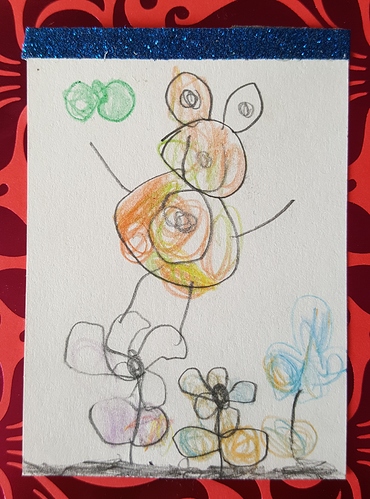 Oh those mushrooms are seriously gorgeous!!
@curiousfae wow that Frida Kahlo ATC is awesome! and your mushrooms are fantastic! Although I can imagine the morel one triggering someone's trypophobia!!! lol
@LindaP - cute mushroom guy! and your granddaughter's frog is super cute.
@JoyfulClover - great watercolors. I can "see" the movement in the hummingbord one.
I'm so happy I put orcas on my list, I received these two lovlies from @Lynx2Lancer and @JoyfulClover! The first is masterboard and the second is watercolor. Very excited to be filling up my ATC display again.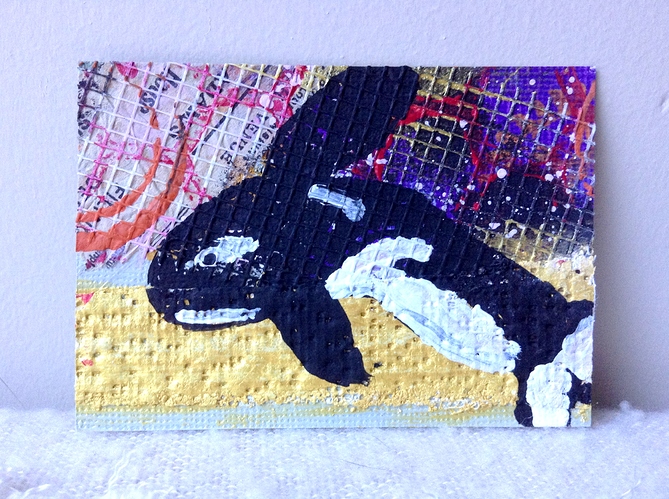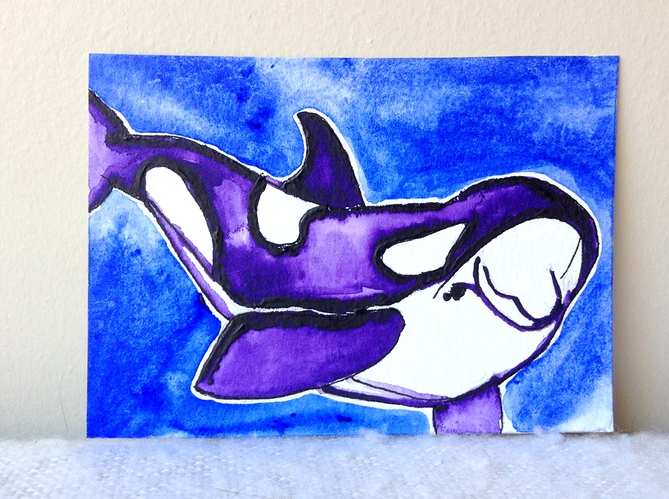 I'm so glad you are happy!
And guess who received hers today?? ME!! I am taking photos at lunch. THANK YOU SO MUCH!!
wow…never thought to paint a favorite animal over a masterboard…that looks so cool
and the watercolor…very vivid and naturally shaded
Nice work both!
I'm so happy to see a gallery here of all the cards! So many great cards.

I especially love the hummingbird and pink mushroom card.



I received from @AcadianDriftwood entitled 'Let's Hear Some Chatter'!
She chose my DS9 prompt, and selected the character Worf: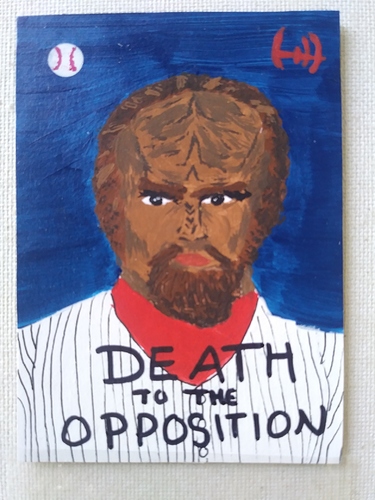 She said this episode always makes her laugh, so it's like a little shared love, across the miles. Check out those ridges! (fandom joke)
Thank you so much! I just love these little mini-art canvases!
i had to look this up. crazy! they kinda have a point though…
Check out this super great snarky atc from @curiousfae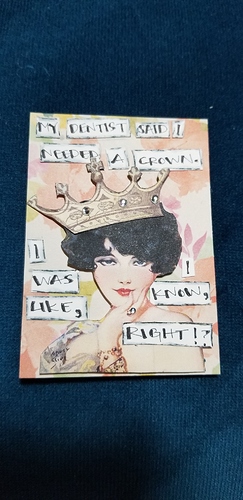 She also sent along this fun hummingbird. It looks drawn in Sharpie or copics.