Well, they ole cat is out of the bag, so now I can do my full reveal!
A few weeks ago, @MissingWillow came to the Mod Squad with a proposal to create a little group project – a teeny piece of all of us to represent all of our history and our new home here.

I had never tried to make miniatures, but how could I resist such an idea!? At first, I was going to just try to make a few mini yarns. That wasn't all too painful, so I kept going!
Grandma's sewing tin.

And going…
And… still going!
Until we realized, with the little suitcase OPEN, to get to all of the goodies, it wouldn't even fit on the curio cabinet.

So we decided to make it a second project all by itself!
It is chock full of itty bitties.
1 fabric-covered and embellished sewing suitcase (opens and closes)
1 pair of stork scissors
3 balls of yarn
2 skeins of yarn
1 star-shaped thread holder
1 classic Royal Dansk butter cookie tin (does not open)
1 card of metal links (necklace)
1 card of (4) plastic buttons
1 card of (3) metal, square buttons
1 card of (4) gold disc buttons
Colorful gift tags
Affixed within the case:
1 set of knitting needles
3 spools of thread
2 measuring tapes
Seamstress inspiration and pattern cards
---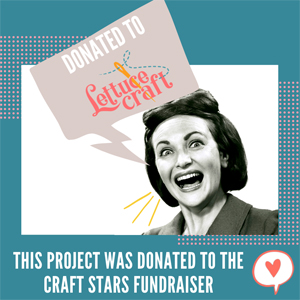 LETTUCE CRAFT NOTE: This project was crafted and donated to the Craft Stars Fundraiser! It is available via online auction until Saturday, February 8. For more information, please visit the auction listing.