A few weeks ago I found myself worrying about the world instead of sleeping and decided to channel my insomnia into something crafty to benefit our new online home. I made this little chipboard curio cabinet and added the cute little Lettuce Craft characters to the interior. I started crafting tiny things to put inside and reached out to my fellow mods to see if anyone wanted to contribute. Boy did they! Here's what we collectively came up with.

From the top: Swarovski necklace and jewelry display stand by MistressJennie, Catrina shrine by me, mothman by PerfectlyBohemian.
Fairy shrine, steampunk watch parts assemblage and photo of our lambs by me, teeny tiny circus shriney and scrabble tile painting by racky, Up embroidery by sweets4ever. The tiny rubber duck is a reminder of my favorite April Fools celebration on our old site.
Micro knitting by loves2experiment, an Easter display by pottermouth, more jewelry from MistressJennie, and kittykill's mini folio. I contributed the chunky haunted house, pottery bowl, Lettuce Craft cookies and Harry Potter book.
Our site mascot Chaircat Mao by pottermouth sits on a cross stitch pillow by kittykill on top of a crocheted rug by MistressJennie.
This 1:12 dollhouse scale curio is offered for auction on ebay, the funds raised will go towards helping fund our new home.
Jewelry Miniature Swarovski Necklace & Jewelry Display Stand
Circus Teeny Tiny Circus Shriney
Folio Miniature Folio
Chaircat Mao in Mini Chaircat Mao in Mini
Micro knitting Micro knitting
Up Embroidery Itty Bitty Up Embroidery
Micro Moth Guy The Itty Bittiest Micro Moth Guy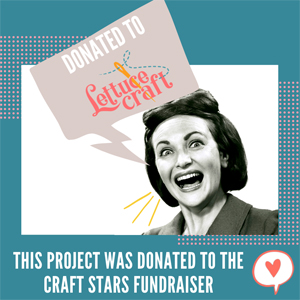 LETTUCE CRAFT NOTE: This project was crafted and donated to the Craft Stars Fundraiser ! It is available via online auction until Saturday, February 8. For more information, please visit the auction listing.